Health Literacy Institute
Health Literacy Institute
The Health Literacy Institute at St. Vincent Charity Medical Center is made up of a team of Caregivers who are steadfastly dedicated to improving health through better communication.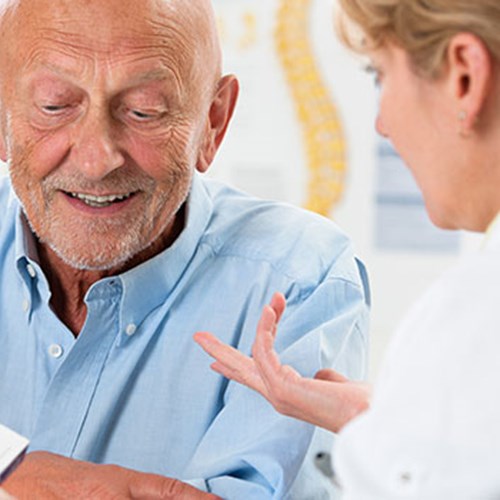 Since 2007, it has been a primary goal of St. Vincent Charity to develop a program model that would institutionalize health literacy across the continuum of patient care. In partnership with Project Learn, grants were received from the Sisters of Charity Foundation of Cleveland to help address low health literacy at St. Vincent Charity.
Whether you are a patient, caregiver or healthcare provider, explore this site to learn more about Health Literacy and how it impacts you and your loved ones. Healthcare providers are encouraged to look at our upcoming events and trainings in the area and connect with our expert sources to learn more about adapting health literacy into your health care organization.
Interested in starting a health literacy initiative at your organization?
We can help. To learn more or schedule a training or workshop, please contact Karen Komondor at 216.363.2553 or email her at karen.komondor@stvincentcharity.com.
Differing from literacy itself, the Institute of Medicine (IOM) has defined health literacy as "the degree to which individuals can obtain, process, and understand the basic health information and services they need to make appropriate health decisions."
Health literacy requires basic reading skills, but also the ability to understand oral communication, use numbers and math skills, understand how to navigate the health system on a basic level, as well as the ability to communicate with health care providers and their staff. In other words, Health Literacy is the:
Patient's ability to understand and act on health information
Health care provider's ability to communicate so patients can act on the information to take better care of their health.
Questions are the Answer
The Agency for Healthcare Research and Quality (AHRQ) created a campaign titled "Questions are the Answer" that focuses on the importance of asking your doctor questions. View the video and learn more about how to improve communication with your healthcare provider.
The mission of Health Literacy at St. Vincent Charity Medical Center
St. Vincent Charity has adopted the "Universal Precautions" approach recommended by the Agency for Healthcare Research and Quality. Our Mission is to provide easy to understand information for ALL patients and to utilize the five steps for improving health literacy with ALL patients.
Facts and Figures
It is estimated that nearly half of American adults, 90 million people, have only basic or below-basic health literacy skills and have difficulty understanding and acting on health information

 

(Institute of Medicine Report "Health Literacy: a Prescription to End Confusion).
Persons with limited health literacy skills have higher utilization of treatment services including hospitalization and emergency services and lower utilization of preventive services.
Individuals with limited health literacy incur medical expenses that are up to four times greater than patients with adequate health literacy skills.
The estimated added annual cost to the health care system due to low health literacy is $106-$238 billion

 

(Low Health Literacy: Implications for National Health Policy, Vernon, J. Trujillo, A. Rosenbaum, S. Debuono, B. October 2007)
People from all ages, races, income levels and education levels are challenged by this problem.
Many patients hide their confusion from their provider because they are too ashamed and intimidated to ask for help.
Meet Our Team
Interested in starting a health literacy initiative at your organization? We can help. To learn more or schedule a training or workshop, please contact Karen Komondor at 216.363.2553 or email her at karen.komondor@stvincentcharity.com.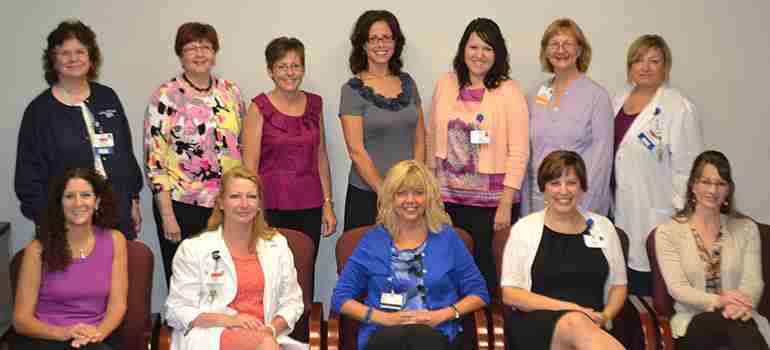 Karen Komondor, RN, CCRN
Chair, Health Literacy Institute
Director of Education at St. Vincent Charity Medical Center
As Director since 2003, Karen is responsible for all aspects of staff and program development and Patient Education. She has more than 30 years experience as a Registered Nurse in a variety of roles including critical care staff nurse, fixed wing air transport nurse and critical care educator. From her many years of experience with patients, she recognized the importance of Health Literacy's relationship to patient care and was the first to coordinate a system-wide program that served to promote Health literacy awareness. Funded by the Sisters of Charity Foundation of Cleveland, SVCMC began its Health Literacy Initiative in 2007 in collaboration with Project Learn, Greater Cleveland's premier adult literacy center. Since that time, Karen has led the initiative with a goal to promote Health Literacy across the continuum of patient care. Karen received Project Learn's Individual Friend of Health Literacy Award in April, 2010.
Leslie Andrews, Diabetes Coordinator
Teresa Calhoun, Health Advocate
Jennifer Delrio, Clinical Dietitian
Mariellen Desmit, Diabetes Educator
Joyce Emley, Critical Care/IT Educator
Linda Foy, Infection Control Practitioner
Cathy Kopinsky, Project Coordinator, Mission Outreach
Jean Mendis, Deaf Access Program Coordinator
Christine Miceli-Hahn, Program Director, Bariatric Surgery
Liz Moro, Educator
Ifijen Oleghe, MD, Internal Medicine Resident
Richard Peterson, CEO, Project Learn
Laurie Prokasy, IT Educator
Debra Randazzo, Occupational Therapist
Cathy Rhoades, Clinical Applications Analyst
Roseanne Stauder, Clinical Dietician
Lisa Triska, Health Care Navigator
Jodie Zlotnik, Clinical Manager Pharmacy
What We're doing
St. Vincent Charity Medical Center has incorporated in its policies and trainings the following 5 Steps to improve Health Literacy: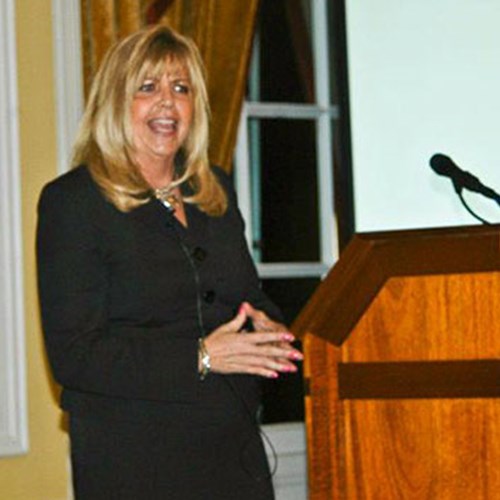 Speak slowly

Take time to understand the patient's concerns. Limit the amount of information provided at each encounter.

Teach back

Use this method to make sure patients truly understand what you are teaching them. Ask, "How will you describe this to your family?" Do not ask, "Do you understand?"

Encourage questions

Empower patients to ask questions about their health care.

Plain language

Use language that is easy to understand. All patients appreciate information that is clear and concise.

Show examples

Draw or show a picture to patients to help convey a complex concept or a body part.
Patient Documents
To date, more than 100 Patient Education documents have been revised for readability at grade eight or below by Project: Learn. All documents have been reviewed and/or revised through the Health Literacy Committee and placed on the hospital intranet for distribution.
Staff Training
All Caregivers, clinical and nonclinical, are introduced to health literacy at new hire orientation. Here they are given the basic tools and resources to incorporate health literacy into their work. Caregivers who spend most of their time interacting with patients complete additional health literacy training, including nurses, medical residents, physicians and management. Additionally, health literacy has been added into St. Vincent Charity's annual whole house and clinical competencies.
Navigation
Adult students from Project Learn completed a hospital "Navigation Tracer" at St. Vincent Charity to evaluate the effectiveness of directional and informational signage around the building. The students then helped the health literacy team review current signage and were involved in selecting new locations and verbiage.
Outside Training/Collaboration
Presented to the Institute of Medicine Roundtable in Washington D.C., April 2013
Presented at the Association of American Colleges (AAMC) Spring meeting March, 2013
Hosted the Ohio Health Literacy Conference Series in 2012, including four Health Literacy 101 Workshops and a Conference Day in October 2012
Presented at Crossroads Hospice Annual Conference. May, 2012
Provided training to Northeast Ohio Neighborhood Health Services (NEON) April, 2012
Presented at the Kidney Foundation of Ohio. 36th

 

Annual Renal Symposium. September, 2011.
Provided HL Awareness Training at University Hospitals for Pediatric Grand Rounds
Provided HL Awareness Training for staff at the Cleveland Department of Public Health
Presented a roundtable discussion, "Increasing Health Literacy Awareness throughout the Continuum of Care", at the 137th American Public Health Association annual meeting in November, 2009.
Delivered a HL skills-based workshop at the community health workers focused Unity Conference, Columbus, Ohio, in June 2010.
Presented "Health Literacy: Journey at SVCMC" on a national webinar for CASEINPOINT Webinars through Dorland Health.
Trained Physician group at MetroHealth Medical Center
Partnered with the VNA to establish health literacy program.
How We Can Help
Staff Training - Grand Rounds - Workshops - Get Involved in Regional and Statewide Initiatives
Interested in starting a health literacy initiative at your organization? We can help. To learn more or schedule a training or workshop, please contact Karen Komondor at 216.363.2553 or email her at karen.komondor@stvincentcharity.com.
Resources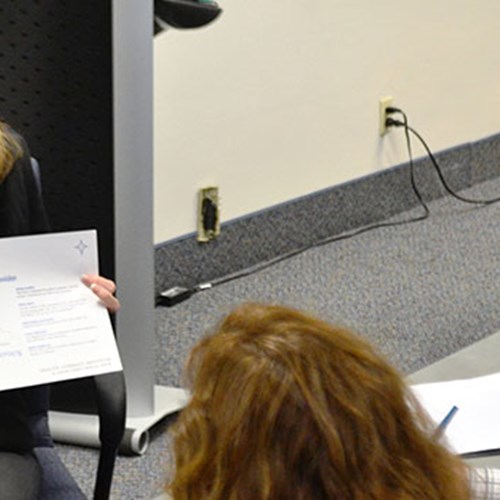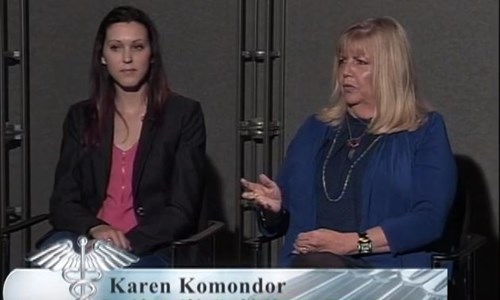 October 8, 2019
October is Health Literacy Month and Karen Komondor, chair of the Health Literacy Institute at St. Vincent Charity Medical Center, and Healthy Cleveland's Jessica Jurcak sat down with TV20 Cleveland to talk about health literacy in Cleveland and why ...continue reading
Read More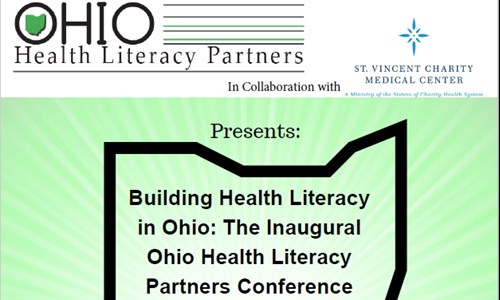 August 29, 2019
St. Vincent Charity Medical Center is partnering with Ohio Health Literacy Partners to host Building Health Literacy in Ohio: The Inaugural Ohio Health Literacy Partners Conference on October 4 at Ashland University. Since 2007, the Health Literacy I ...continue reading
Read More