St. Vincent Charity Medical Center is partnering with Ohio Health Literacy Partners to host Building Health Literacy in Ohio: The Inaugural Ohio Health Literacy Partners Conference on October 4, 2019, at Ashland University in Ashland, Ohio. Register here by September 1 to receive early-bird pricing.
Health literacy is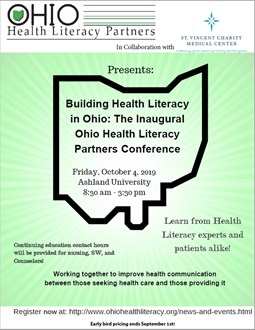 "the degree to which individuals have the capacity to obtain, communicate, process, and understand basic health information and services needed to make appropriate health decisions." (Healthy People 2020) 
Since 2007, the Health Literacy Institute at St. Vincent Charity has been a nationally recognized leader in developing a program model to institutionalize health literacy across the continuum of patient care. Information from health professionals, the media and organizations often present information that is difficult to understand and act on. St. Vincent Charity recognizes that health literacy isn't just about the skills of an individual patient, but that health systems and professionals impact health literacy by making health information and services understandable and actionable.
This unique health literacy conference enables attendees to hear from and network with national leaders in health communication and patient safety. CEU certificates will be provided for nurses, counselors, social workers and dietitians. Certificates of attendance will be provided for all others. The full conference program and agenda are available here.
Ohio Health Literacy Partners (OHLP) is a statewide non-profit organization dedicated to empowering Ohioans to make informed health choices through improved health literacy. OHLP was created in 2013 to bring together a coalition of interested professionals from around Ohio who have expertise in health literacy. The intent is to address the individual, professional and organizational challenges of low-health literacy throughout the state.