Occupational Health
We are your trusted partner for a healthy and safe workplace.
Our employer-focused programs are designed exclusively to meet the health needs of your business. We have been serving northeast Ohio and beyond for more than 20 years and are the oldest hospital-based occupational health program in Cleveland.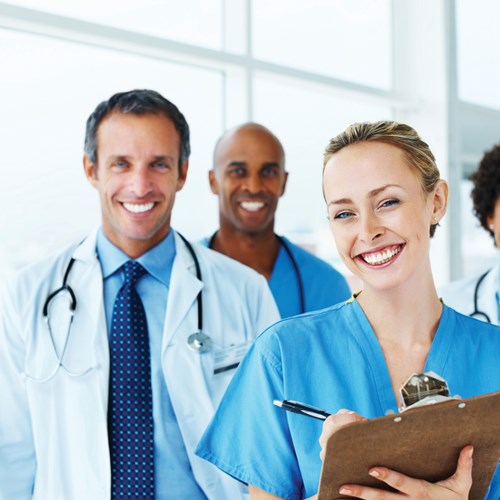 We allow you to take control of your claims by offering a seamless continuum of care that keeps your team healthy and productive while lowering your costs.
St. Vincent Charity Medical Center looks forward to being your partner in providing cost-effective solutions for your safe and healthy workforce. Our business network throughout the Unites States allows us to partner with you regardless of location.
Whatever your occupational health needs, we have you covered.
Full service hospital support
Convenient locations
One-stop operation
On-site service offerings
Management of workers compensation claims
Occupational Health at St. Vincent Charity Medical Center offers a seamless, integrated approach for treating and managing work-related injuries, including:
Convenience: We have you covered with clinic locations throughout northeast Ohio and business partnerships throughout the United States. We can provide most of our services at your business location.
Continuum of care: An integrated occupational health network that is supported by a full-service hospital provides a seamless, one-stop operation that treats employees from initial injury to full recovery.
Access: Work-related injuries can happen at any time and St. Vincent Charity Medical Center is open 24 hours a day, seven days a week.
Drug and alcohol testing
We offer drug-free workplace training and random selections using the latest technologies.
Physical examinations
We can tailor worker health exams to meet your company's needs.
Web-based access.
iSYSTOC offers clear, concise injury, drug and TB screening, immunization and scheduling information on your employees treated at our clinic. Web access allows you to retrieve information when you need it.
Main Campus Downtown
2475 East 22nd Street, Suite 310
,
Cleveland
,
Ohio
-
44115
216.363.2691 Ext. 1
Monday-Friday
8 a.m. to 4 p.m.
After hours: 24/7 Emergency Department
Rocky River
20220 Center Ridge Road, Suite #120
,
Rocky River
,
Ohio
-
44116
216-363-2691
Weekdays 8:00 a.m. to 6:00 p.m.
Saturdays 9:00 a.m. to 2:00 p.m.
St. Vincent Charity Medical Center Medical Campus - Solon
33001 Solon Road
,
Solon
,
Ohio
-
44139
440.349.1796
Monday – Friday
8 a.m. to 4 p.m.
Occupational Medicine complete list of services
Injury care certified BWC providers
DOT and non-DOT urine drug screens*
Random drug testing program management
Breath alcohol testing*
Audiograms
Respirator fit testing (qualitative)*
Spirometry
Assistance with OSHA compliance
Vision screening*
Immunizations-Hep A,B, flu, tetanus, TB*
X-ray
Laboratory services*
Surveillance exams*
Silica exams*
Respirator exams*
ECG
Stress tests
DOT physicals*
Pre-employment physicals*
Annual physicals*
Fit-for-duty exams
IME's
Customized lift evaluations*
After-hours UDS and BAT testing*
CPR/AED /first aid training*
Educational programs available to assist with company compliance*
*also available as on-site services