Outpatient Mental Health Services
Outpatient Behavioral Health Services
We accept public and private insurance and have same-day and next-day availability for counseling services. Call 216.363.2580, option 3.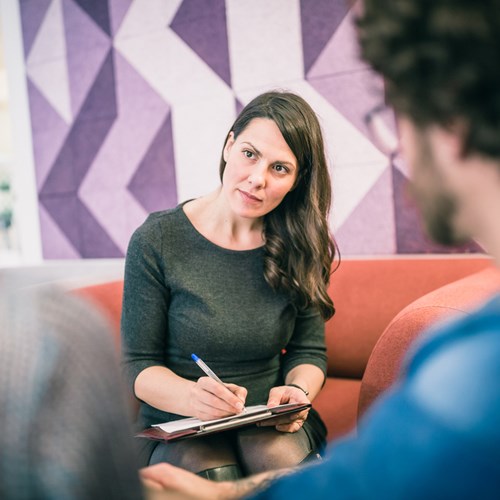 At St. Vincent Charity, we attend to the physical, mental, emotional and spiritual health of each individual.
Our team includes psychiatry, social work, counseling, care coordination and more.
Common concerns/diagnoses we serve include:
Adult ADHD
Anxiety disorders
Couples/marital Issues
Depression
Dual diagnosis/co-occurring disorders
Grief and loss
Mood disorders
PTSD and trauma
Relationship issues
Schizophrenia and other psychotic disorders
Sexual abuse
Sleep problems/insomnia
Stress management
Substance use disorders
We provide the following services to support your mental health:
Care coordination
Mental health assessment
Group therapy
Individual therapy
Linkage to primary care
Medication management
Trauma therapy
Wellness
Specialized offerings include:
Eye Movement Desensitization and Reprocessing (EMDR)
All of our services are tailored to your needs. Recognizing the strong link between mind and body, treatment also focuses on improving general well-being. Our goal is to help our clients better cope with everyday stressors, enhance their relationships, and improve overall mental and emotional health.
OUTPATIENT BEHAVIORAL HEALTH SERVICES
Location:
St. Vincent Medical Office Building
2322 East 22nd Street, Suite 200
Cleveland, OH 44115
Hours:
Monday through Friday
8:00 a.m. to 4:30 p.m.
To learn more or make an appointment:
Call our office at 216.363.2580, option 3. 
CALL FOR YOUR FREE CONSULATION
THE HELP YOU WANT FOR A HAPPIER LIFE.
Call 216-363-2580 to get started on the path to take your life back. Ask about our telehealth treatment options. 
Can't call now? Fill out this form and someone will get in contact with you within one business day. 
Rajalla E

.

Prewitt , M.D.

Rajalla E. Prewitt, M.D. joined St. Vincent Charity's Behavioral Health medical staff in October 2021 and currently provides outpatient behavioral health services. She is dual board certified in adult psychiatry and child/adolescent psychiatry.

Previously, Dr. Prewitt served, beginning in January 2015, as medical director of the adolescent inpatient unit at Snowden at Fredericksburg of Mary Washington Hospital; as an attending psychiatrist for the adult partial hospitalization program at Snowden at Fredericksburg of Mary Washington Hospital; and as an outpatient adult and child/adolescent psychiatrist for Gaertner Psychiatric PC, which is a full service inpatient and outpatient psychiatric medical practice serving Fredericksburg and Richmond, VA. From 2010 to 2014, Dr. Prewitt served as a psychiatrist at the Center for Family Guidance in Marlton, NJ.

Dr. Prewitt holds a bachelor's degree in biology from John Carroll University and medical degree from The Ohio State University College of Medicine. She completed her residency in psychiatry at the University of Cincinnati and fellowship in child/adolescent psychiatry at the University of Cincinnati Children's Hospital Medical Center, where she was chief resident of child/adolescent psychiatry.

Throughout her career, Dr. Prewitt has consulted with various behavioral health programs throughout the country to extend best practices and improve training.

Specialties:

Psychiatry

Mary K

.

Wills, LISW-S

Mary K Wills, LISW-S is an outpatient therapist and clinical supervisor. As a behavioral health therapist at St. Vincent Charity Medical Center, Mary is dedicated to improving access to integrated care, so that patients can address both their behavioral health symptoms as well as underlying health concerns. Her experience includes working with a broad range of populations, including adults, children, families, couples, geriatrics, LGBTQIA+, dual diagnosis, developmentally delayed, Medicare/Medicaid beneficiaries, grant funded services, private insurance, and corrections.  And she has experience in diverse social work settings, such as inpatient psychiatric hospital, community-based services, schools, in-home community mental health counseling, corrections and office-based and hospital-based integrated care.  

Mary is specifically skilled in treating trauma, anxiety and grief/loss. She has developed multiple grief and loss programs based on the Kubler-Ross model, and approaches treatment with empathy and understanding. Mary is trained in treatment modalities, including EMDR, TF-CBT, motivational interviewing and DBT. 

Mary holds a Bachelor of Arts from the University of Mount Union and a Master of Science in Social Administration and a certificate in Global Health from Case Western Reserve University. While at Case Western Reserve University, Mary studied abroad in Northern India to learn more about the effects of poverty on global health. She completed her undergraduate internships at a subsidized housing program in Stark County and Stark County Family Court with the juvenile pre-trial division. Her graduate school internships were completed at an inpatient behavioral health center in Willoughby, OH and at Marion Sterling Elementary School in Cleveland, Ohio's Central neighborhood. Many of the murals painted in Marion Sterling were painted by Mary and her students.

Specialties:

Counseling

Social Work

Karen McCollough, LPC, LICDC

Karen McCollough is a Licensed Professional Counselor (LPC) and a Licensed Independent Chemical Dependency Counselor (LICDC), who has been in practice for 8 years. Karen completed her undergraduate degree in Health Science at Cleveland State University. She received her Masters of Mental Health Counseling at Capella University.

Karen believes that an overall positive change is the result of a strong collaborative framework between client and clinician. She utilizes elements of dialectical behavior therapy (DBT), cognitive behavioral therapy (CBT), Solution Focused Therapy and mindfulness in counseling to assist clients with a variety of mental health and chemical dependency issues. Karen is passionate about meeting her clients where they are and strives to create a non-judgmental and supportive environment that allows a client to feel empowered within the therapeutic space.

Karen's clinical training includes working with diverse populations specifically aged 13 and up, including those chemically dependent. She has experience with dual diagnosis, anxiety, depression, relationship concerns, interpersonal issues, grief, and various other mental health challenges. On a personal note, Karen enjoys spending time with her husband and two sons. She is enjoys singing and crocheting.

Cary Bohm , LISW-S

Cary Bohm is an outpatient counselor committed to solution focused therapy. She works with patients to take an active role in treatment and develop more effective ways of coping. 

Cary has 25 years' experience, working with individuals from early adulthood through geriatrics who are experiencing depression, anxiety, grief or complex family concerns. Cary is also familiar working with individuals diagnosed with schizophrenia, bipolar disorder, dual diagnoses and substance use disorders, as well as with their families. 

Cary is a Licensed Independent Social Worker – Supervisor (LISW-S) in the state of Ohio. She received a Bachelor of Science in Psychology from John Carroll University and a Master of Science in Social Administration from Case Western Reserve University, Mandel School of Applied Social Sciences.

Cary started her career providing crisis intervention social work services in St. Vincent Charity's Psychiatric Emergency Services (formerly known as the Psychiatric Emergency Department). She has also worked on inpatient behavioral health units, providing social work services, developing chemical dependency groups and providing individual counseling. Most recently, Cary has provided counseling to individuals in their homes as part of a treatment team and in outpatient office settings.