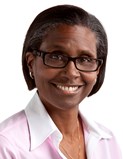 Board-certified in Neurological Surgery, Deborah A. Blades, M.D., specializes in neck, spine, head and intracranial surgery. To schedule an appointment with Dr. Blades, call 216.369.2830.
Living in Barbados his entire life, Shane Johnson took advantage of the lush golf courses on the island and became an avid golfer, even playing in competitive, amateur tournaments. As with many players in the sport, Shane began over the years to experience back pain, keeping him off the course for nearly two years.
Golf, as well as other competitive sports, can stress many aspects of the musculoskeletal system, and has a tendency to take its toll on the players' lower backs. The very nature of the rotational force and repetitive motion of the golf swing can place high loads on the lumbar discs placing them at risk for accelerated degeneration.
By early 2014, Shane found himself unable to play golf, struggling even to sleep, walk and stand upright without pain. He began researching treatment options for his condition, seeing a local surgeon in Barbados then seeking consultation with another in Florida. Yet, he still felt apprehensive about surgery given he was only 43 years at the time and had never had surgery in the past.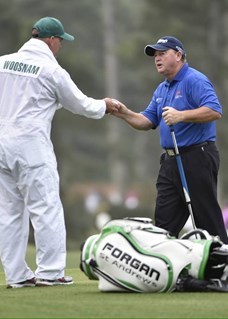 It wasn't until he received an invitation from a friend and legendary golfer, Ian Woosnam, to serve as his caddie in the 2015 Masters that Shane decided it was time to get serious about finding a solution. Every golfer dreams about walking the fairways and greens of Augusta National during the Masters, but the opportunity to do it carrying the bag of the 1991 Masters champion and one of the game's greatest players made it even sweeter. This honor to walk golf's grandest stage side by side with his friend was too much to give up.
Shane's cousin-in-law Paul Alleyne, who he works with on the island at Alleyne Real Estate, recommended he consult with Deborah Blades, MD, a neurosurgeon at St. Vincent Charity Medical Center. Dr. Blades has developed a loyal, international following, particularly in Barbados, and has become known for her surgical expertise and personalized approach to patient care.
---
Dr. Blades travels to Barbados frequently to visit her extended family; however, over the years, her visits have consistently included consulting with patients seeking help for their spinal conditions. She has earned a reputation for not only her knowledge and expertise but the time she takes listening to her patients and then working in partnership to develop an effective treatment plan. Patients regularly make the nearly 10-hour plane trip to Cleveland for surgery under her expert hand.
---
It was that strong reputation and the recommendation from his cousin, combined with the desire to return to life without pain and, then, of course, golf that fueled Shane's first call to Dr. Blades to discuss his condition; a call which led to making his final decision.
"Shane and I were on the phone nearly two hours, talking about his condition and answering all of his questions about the proposed surgery and subsequent therapy. He wanted to be as sure as possible that surgery would allow for the physical demands of caddying and enable him to get back to his daily life," Dr. Blades said. "We spoke several more times by phone."
Just weeks later, Shane flew to Cleveland for surgery, performed by Dr. Blades, to relieve the pressure on a lumbar nerve caused by a herniated disc.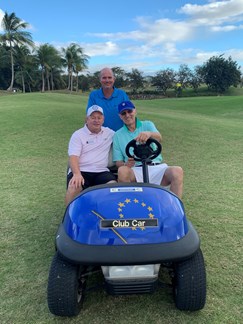 "The long flight to Cleveland made the pain much worse than it had been," Shane said. "When I woke up after surgery, the whole team of caregivers were there. Dr. Blades was the first person I saw. After a while, Dr. Blades asked me to get up and walk with her."
To his amazement, he said he was able to stand completely upright, pain free for the first time in a while. After first thinking it was the result of pain medications, Dr. Blades reassured him that the pain relief and posture was due to the removal of the disc fragment that was compressing the nerve root. 
Six months later, Johnson was able to enjoy an amazing week, successfully walking the course of Augusta National for the 2015 Masters Tournament as caddie for his friend, Ian Woosnam. With his experience, Shane has joined the international group of advocates for Dr. Blades, even last year encouraging Woosnam to seek her expertise for his career-long back and leg pain. 
---
"I would recommend her to my family and closest friends because with Dr. Blades, you know you are getting the best of both worlds - a skilled surgeon and someone who truly care about getting you back to the life you love," Shane said. "Deborah Blades is more than a world class surgeon, she is one of the nicest and most caring people I have ever met. One of a kind!"
---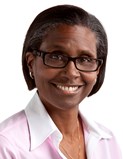 Board-certified in Neurological Surgery, Deborah A. Blades, M.D., specializes in neck, spine, head and intracranial surgery. To schedule an appointment with Dr. Blades, call 216.369.2830.
Tags:
---
Categories: