To reach Rosary Hall, call 216-363-2580 and press 4 to speak with a caregiver immediately. 
As part of the launch of an online Naloxone Toolkit from the Northeast Ohio Hospital Opioid Consortium, Ted Parran, M.D., co-medical director of Rosary Hall at St. Vincent Charity Medical Center, participated in a discussion about naloxone as a life-saving, anti-overdose drug on an episode of ideastream's® The Sound of Ideas.
Seeking to increase access to the life-saving intervention naloxone, the Northeast Ohio Hospital Opioid Consortium launched the Naloxone Toolkit this week as a collection of resources freely available to readers. The toolkit is designed to provide useful information to patients and health care professionals to help ensure naloxone gets into the hands of those who may need it.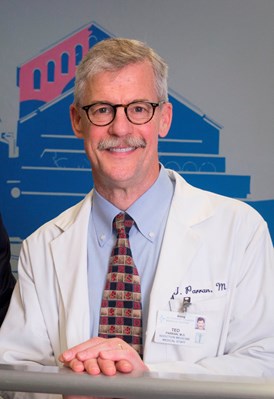 Joining Dr. Parran on the broadcast, hosted by The Sound of Ideas' Mike McIntyre, were:
Camille Zalar, Northeast Ohio Hospital Opioid Consortium director of education and initiatives
Emily Metz, manager, Office of Opioid Safety; MetroHealth System
"Our providers are working together and collaborating," said Parran on the program. "If barriers are broken down, more people will access treatment. Naloxone is an entryway to get them into treatment...I hope what we've learned from the opioid epidemic will help us tackle future drug epidemics."
"We have to remember addiction is a chronic illness," added Zalar. "There are relapses. We have to continue treating to save lives."
LISTEN: To listen to The Sound of Ideas' broadcast and access resources mentioned during it, visit their website. The discussion with Zalar, Dr. Parran and Metz begins at the 17:05 mark.
The toolkit is organized by reader type—patients and families, providers, pharmacists and social workers—and is unique in being a single source that covers this spectrum of target audiences. Comprising material from reputable sources like national and local public health agencies, accrediting bodies and professional associations, the Toolkit includes:
Talking points for providers, pharmacists and social workers who may be looking for assistance in discussing naloxone with patients.
Guidelines on prescribing and dispensing naloxone.
Informational resources for patients and family members intended to answer their questions about naloxone.
Prior to launch, the toolkit was reviewed and tested by an expert group of nurses, pharmacists and others to ensure the quality and usability of the information.
"The most important thing we can do as a collaborative is to find ways to save lives, and we know that naloxone is a critical tool for preventing deaths from opioid overdose," said Randy Jernejcic, M.D., chair of the Opioid Consortium and vice president of clinical integration at University Hospitals "The development of this toolkit is one step that we can take to support providers and patients in getting more naloxone out there in the community where it can reverse overdose."
The online Naloxone Toolkit is an outcome of the Opioid Consortium's strategic plan, which includes an objective related to expanding the use of and access to naloxone, a drug that can temporarily stop many of the life-threatening effects of an opioid overdose. The launch of the toolkit aligns with September, National Recovery Month, and aligns with the national efforts to educate Americans about addiction and mental illness, as well as encourage treatment and celebrate recovery.
According to the most recent data available to the Centers for Disease Control and Prevention (CDC), more than two-thirds of the drug overdose deaths that occurred in 2017 involved opioids. The CDC recommends that naloxone be prescribed to patients who are also being prescribed high-dose opioids, which is considered to be 50 or more morphine milligram equivalents per day. A recent CDC study found that the number of naloxone prescriptions doubled from 2017 to 2018. Yet despite this increase, the CDC also found that in 2018, while there was geographic variation, nationwide only one naloxone prescription was dispensed for every 69 high-dose opioid prescriptions.
Formed in 2016 when the region's health systems came together to develop a hospital-specific response to the crisis, the Northeast Ohio Hospital Opioid Consortium is a hospital system-based and physician-led collaborative of healthcare organizations working together to significantly reduce the impact of the opioid epidemic in the region by sharing and implementing evidence-based practices; promoting policy changes; and increasing prevention efforts. Opioid Consortium partners include The Center for Health Affairs, Cleveland Clinic, MetroHealth, St. Vincent Charity Medical Center, University Hospitals, VA Northeast Ohio Healthcare System, and the Academy of Medicine of Cleveland and Northern Ohio.
To access the online Naloxone Toolkit, click here.
---
About Rosary Hall
Rosary Hall at St. Vincent Charity Medical Center in Cleveland has been at the forefront of treating alcoholism and drug dependency for more than 60 years. At Rosary Hall, patients and their families find the road to freedom in a recovery process that's compassionate, comprehensive and one of the best in the country. In fact, Rosary Hall is the only addiction treatment center in the region to provide a full spectrum of the most current treatment options, from hospital detoxification to community-based rehabilitation, to the latest medication-assisted treatments.
To reach Rosary Hall, call 216-363-2580 and press 4 to speak with a caregiver immediately. Learn more about our co-medical directors, Dr. Ted Parran and Dr. Christopher Adelman.
To reach Rosary Hall, call 216-363-2580 and press 4 to speak with a caregiver immediately. 
Tags:
---
Categories: