St. Vincent Charity Medical Center offers outpatient mental health, trauma and wellness services in a person-centered approach at the new Integrated Care Clinic. Call today: 216-363-2580, option 2.
---
Integrated Care refers to the practice of treating the whole person — attending to physical, mental, emotional and spiritual health. This approach meaningfully transforms lives by wholly embracing the needs of each individual.
In its February 8th issue, Crain's Cleveland Business features an in-depth look at this approach at St. Vincent Charity Medical Center, as well as the hospital's new Integrated Care Clinic, which provides outpatient mental health trauma and wellness services in a person-centered approach.
The full text of the article is below or available here:
---
New clinic at St. Vincent Charity Medical Center integrates behavioral health, primary care

LYDIA COUTRÉ, Crain's Cleveland Business, February 07, 2021
https://www.crainscleveland.com/health-care/new-clinic-st-vincent-medical-center-integrates-behavioral-health-primary-care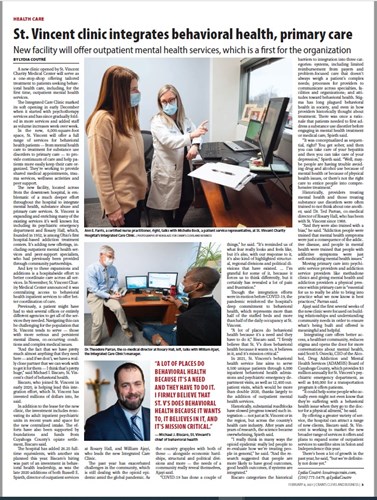 A new clinic opened by St. Vincent Charity Medical Center will serve as a one-stop-shop offering tailored treatment to patients seeking behavioral health care, including, for the first time, outpatient mental health services.
The Integrated Care Clinic marked its soft opening in early December when it started with psychotherapy services and has since gradually folded in more services and added staff as volume increases week over week.
In the new, 6,000-square-foot space, St. Vincent will offer a full range of services for behavioral health patients — from mental health care to treatment for substance use disorders to primary care — to provide continuum of care and help patients more easily keep their care organized. They're working to provide shared medical appointments, trauma services, wellness activities and peer support.
The new facility, located across from the downtown hospital, is emblematic of a much deeper effort throughout the hospital to integrate mental health, substance abuse and primary care services. St. Vincent is expanding and enriching many of the existing services it's well known for, including its psychiatric emergency department and Rosary Hall, which, founded in 1952, is among Ohio's first hospital-based addiction treatment centers. It's adding new offerings, including outpatient mental health services and peer-support specialists, who had previously been provided through community partnerships.
And key to these expansions and additions is a hospital-wide effort to better coordinate care across all services. In November, St. Vincent Charity Medical Center announced it was centralizing access to behavioral health inpatient services to offer better coordination of care.
Previously, a patient might have had to visit several offices or entirely different agencies to get all of the services they needed. Navigating this can be challenging for the population that St. Vincent tends to serve — those with more serious and persistent mental illness, co-occurring conditions and complex medical issues.
"And the fact that we have pretty much almost anything that they need here — and if we don't, we have a really close partner that we can work with to get it for them — I think that's pretty huge," said Michael J. Biscaro, Psy.D., ABPP, St. Vincent's chief of behavioral health.
Biscaro, who joined St. Vincent in early 2020, is helping lead this integration effort, which St. Vincent has invested millions of dollars into, he said.
In addition to the lease for the new clinic, the investment includes renovating its adult inpatient psychiatric units in recent years and space for the new centralized intake. The efforts have also been supported by foundations and funds from Cuyahoga County's opiate settlement, Biscaro said.
The hospital has added 26.25 full-time equivalents, with another six planned this year. Biscaro's hiring was part of an investment in behavioral health leadership, as was the late 2020 additions of both Russell E. Spieth, Ph.D., director of outpatient services at Rosary Hall, and William E. Ajayi, Ph.D., who leads the new Integrated Care Clinic.
The past year has exacerbated challenges in the community, which is still dealing with the opioid epidemic amid the global pandemic. As the country grapples with both of these — alongside economic hardships, structural and political divisions and more — the needs of a community really reveal themselves, Ajayi said.
"COVID-19 has done a couple of things," he said. "It's reminded us of what fear really looks and feels like, but it's also, with our response to it, it's also kind of highlighted structural, regional divisions and political divisions that have existed. … I'm grateful for some of it, because it forces us to think differently, but it certainly has revealed a lot of pain and frustration."
Though the integration efforts were in motion before COVID-19, the pandemic reinforced the hospital's deep commitment to behavioral health, which represents more than half of the staffed beds and more than half of the daily occupancy at St. Vincent.
"A lot of places do behavioral health because it's a need and they have to do it," Biscaro said. "I firmly believe that St. V's does behavioral health because it wants to, it believes in it, and it's mission critical."
In 2021, St. Vincent's behavioral health service line aims to serve 8,500 unique patients through 6,000 inpatient behavioral health admissions and psychiatric emergency department visits, as well as 12,400 outpatient visits, which would be more than double 2020, thanks largely to the addition of outpatient mental health services.
Historically, substantial roadblocks have slowed progress toward such integration — not just at St. Vincent or in the region, but across the country's health care industry. After years and years of research, the science became overwhelming, Spieth said.
"I really think in many ways the opioid epidemic really led people to re-evaluate how we're treating people in general," he said. "And the research suggested that people are more likely to have good outcomes, good health outcomes, if systems are integrated."
Biscaro categorizes the historical barriers to integration into three categories: systems, including limited reimbursement from payers and problem-focused care that doesn't always weigh a patient's complex needs; processes for providers to communicate across specialties, facilities and organizations; and attitudes toward behavioral health. Stigma has long plagued behavioral health in society, and even in how providers historically thought about treatment. There was once a rationale that patients needed to first address a substance use disorder before engaging in mental health treatment or medical care, Spieth said.
"It was conceptualized as sequential, right? You get sober, and then you can take care of your hepatitis and then you can take care of your depression," Spieth said. "Well, maybe people are having trouble avoiding drug and alcohol use because of mental health or because of physical health issues, or there's not the right care to entice people into comprehensive treatment."
Historically, providers treating mental health and those treating substance use disorders were often trained to not think about one another, said Ted Parran, M.D., co-medical director of Rosary Hall, who has been with St. Vincent since 1988.
"And they were also trained with a bias," he said. "Addiction people were trained that mental health symptoms were just a consequence of the addictive disease, and people in mental health were trained that people with addictive symptoms were just self-medicating mental health issues."
Moving primary care into psychiatric service providers and addiction service providers like methadone clinics and giving mental health and addiction providers a physical presence within primary care is "essential for us to really be able to bring into practice what we now know is best practices," Parran said.
Ajayi said the first several weeks of the new clinic were focused on building relationships and understanding community needs in order to ensure what's being built and offered is meaningful and helpful.
Integrating care offers better access, a healthier community, reduces stigma and opens the door for more conversations about mental health, said Scott S. Osiecki, CEO of the Alcohol, Drug Addiction and Mental Health Services (ADAMHS) Board of Cuyahoga County, which provides $3 million annually for St. Vincent's psychiatric emergency department, as well as $40,000 for a transportation program it offers patients.
"It could help some people who actually even might not even know that they're suffering with a behavioral health issue when they go to the doctor for a physical ailment," he said.
By offering a greater variety of service, the hospital can attract a range of new clients, Biscaro said. St. Vincent is working to market the new broader range of services it offers and plans to expand some of outpatient services to satellite sites in Solon and Independence this year.
There's been a lot of growth in the past year, he said, "but we're definitely not done yet."
St. Vincent Charity Medical Center offers outpatient mental health, trauma and wellness services in a person-centered approach at the new Integrated Care Clinic. Call today: 216-363-2580, option 2.
---
Tags:
---
Categories: