Tristan Van Natta was two days away from competing in November's 33rd Trampoline Gymnastics World Championships in St. Petersburg, Russia when a crooked landing took her ankle through the springs of the double mini trampoline. Despite the ankle instantly swelling and turning black and blue, the resolute athlete refused to see a doctor, knowing that a diagnosis could prevent her from competing.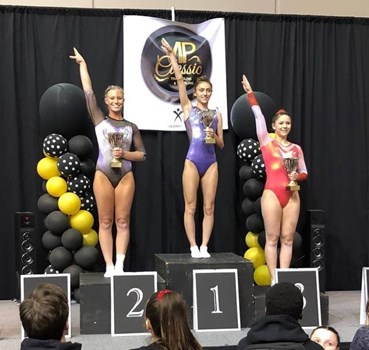 Instead, Tristan gutted it out. Bound and determined to compete, Tristan said trainers taped the ankle, utilized a TENS unit and iced whenever possible. The night before competition, she stayed up all night, walking and staying mobile so the severely injured ankle would not tighten up on her. Despite the pain, Tristan was in second place after the preliminary rounds and competed in the individual finals and the first-ever team competition.
Back in the United States after the world championships, Tristan had x-rays and an MRI on the ankle at the advice of USA Gymnastics trainers. As she feared, the first doctor Tristan saw recommended surgery for the severe ligament and tendon tears she suffered in Russia.
"If I was going to have surgery, I knew I wanted to have Dr. Michael Canales take a look to get a consensus on what was right," Tristan said. She had gotten to know St. Vincent Charity ankle and foot surgeon and NCAA gymnastics champion Dr. Canales through the gymnastics world and had watched him successfully treat fellow elite athletes back to competition form.
To Tristan's surprise, Dr. Canales, who practices at the Spine and Orthopedic Institute, did not feel surgery was necessary. With his extensive experience in non-operative care for these types of ankle injuries, Dr. Canales recommended a closely monitored healing process and physical therapy to return Tristan to competition strength.
"Her severe ankle sprain was as bad as it can be, but she is also young and healthy," Dr. Canales said. "Too many times, people are quick to jump to surgery. As doctors, we need to know when to take our finger off the trigger and take a more conservative approach. Through considerate follow-up and regular communication, often times the patient is better served and we arrive at excellent results."
At Dr. Canales' recommendation, Tristan began her therapy by simply walking barefoot on the training mats, which are thicker than competition mats and provide a natural way to restore strength back to the ankle. Her goal was to be ready to compete in March as part of the first qualifier for the 2019 world championships. The doctor and patient regularly consulted through office visits, videoconferencing, telephone and even meeting in-person between events while Dr. Canales was at Ohio State competing at an alumni gymnastics meet, to discuss her progress and determine the next step in her recovery. By January, Dr. Canales told her it was time and that she was ready to ease back to training on the double mini.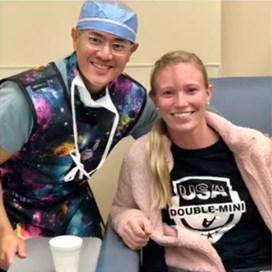 "To have someone like Dr. Canales with an alternative to surgery, a well thought-out plan and a belief in me was the biggest thing," she continued. "For him to be there all along the way as a support, telling me that he wouldn't have me do this if he didn't believe in me, was huge in my recovery."
For Dr. Canales, the partnership in Tristan's journey and the attentiveness to her rehabilitation is the hallmark of care at St. Vincent.
"At St. Vincent, we make ourselves available to our patients and do whatever it takes to provide care. There are hundreds of untold stories where our team goes above and beyond to meet the needs of our patients," he said. "Many people in health care talk about being available to patients, but it is different here because we actually walk it. This isn't just for elite athletes, but for anybody who needs us."
After Tristan successfully finished second in the March competition, Dr. Canales is now guiding her to be back to 100 percent of her training without the ankle brace by June, so that she is ready for National Championships in July.
To learn more or schedule an appointment with Dr. Michael Canales of the Spine and Orthopedic Institute at St. Vincent Charity Medical Center, call 216-369-2835.