Call Today for More Information About Podiatric Treatment Options
Rachel Stypinksi, widely considered one of - if not the - best gymnasts in the history of Kent State University's program, was having the best season of her career. She had been healthy all year, feeling confident, and looking to finish her 18-year gymnastics career on a high note.
But life stepped in, as it can often do, and threw Rachel a last minute curve. In the second it took to start a double layout and then land on both feet, Rachel went from looking forward to celebrating her career to coming face-to-face with life's greatest challenge in her young life of 21 years.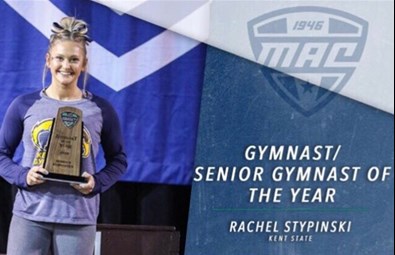 A gymnast since the age of 3, Rachel had one remaining team competition, Senior Day against Temple University, and would then move on to her final competition ever as a gymnast at the NCAA Regionals. As the last of her team to compete in the floor exercise in that senior meet, Rachel landed her first tumbling pass and felt her foot give way. 
"I stopped my routine. I looked down at my foot and instantly knew something was terribly wrong. I had so much adrenaline that I couldn't feel the pain, but I yelled for my coach and then collapsed on the mat," she said.
Rachel's parents, Jeff and Marci Stypinski, sat in the audience watching their daughter, holding their breath, but knowing that because of Rachel's toughness and determination, only a serious injury would bring her down. Ironically, Marci, also a college gymnast, was a senior at Temple when she suffered a career-ending injury to her elbow.
"The situation, it being Rachel's senior meet against the school where I competed, brought it all flashing back at me. A part of me always felt a bit incomplete because I did not get to finish my career the way I wanted," Marci said. "As I watched Rachel, I just started to cry because I did not want this to happen to her."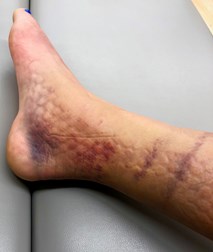 Rachel was rushed to a nearby emergency room, followed by physician visits, and was handed the news she did not want to hear. She was diagnosed with a high ankle sprain that would keep her out of the gym for weeks, but more importantly, would prevent her from competing in her final competition in the regionals.
The determined athlete in Rachel and Marci's mother's desire for her daughter to write a different ending than the one she had, drove them to seek out the counsel of St. Vincent Charity ankle and foot surgeon Dr. Michael Canales, former Ohio State champion gymnast and renowned for his expertise in treating elite athletes.
After a thorough examination and analysis of an MRI of the foot and ankle, Dr. Canales was able to shine a glimmer of hope on the young athlete. Rachel's injury was not, in fact, a high ankle sprain, but ruptures of the primary ligamentous supports to the inside and outside of the ankle joint. While still a serious injury, Dr. Canales believed that with Rachel's resolve to compete, coupled with careful physical therapy planning and close follow-up, she had a chance to complete her career.
"For those who saw the photos of her ankle right after the injury, they all said 'there is no way she is going to be able to compete.' But once I had an accurate diagnosis, I knew we had a chance of getting her back, safely competing with the team," Dr. Canales said. "I have to admit that most in the gymnastics world that knew of the injury did not believe that Rachel would be back."
For Rachel, Dr. Canales' belief that she could recover in time and compete not only gave her hope, but gave her the confidence to push her recovery.
"When he first saw my ankle all blown up like a balloon, black and blue, and he said 'you can do this,' I knew we were going to find a way," Rachel said. "I just needed that little glimmer of hope that I might just have a chance. The competitor in me just did not want to be shut down completely."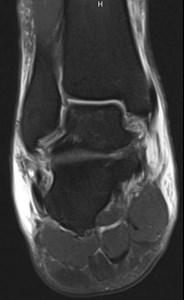 With NCAA Regionals less than three weeks away, every day, every minute was critical to get her back to competition strength. First treating the injury five hours a day just to reduce swelling with ice therapy and active compression, Dr. Canales teleconferenced in from Pennsylvania Rachel's mother, a licensed physical therapist, to develop carefully-orchestrated physical therapy and daily training plans. Rachel sent regular videos to Dr. Canales to assess her mobility and address issues if she was feeling pain. 
Because of the nature of her injury, Rachel knew that she would have to adjust her plans a bit for regionals and not compete in all her events. She set her sights on competing in the uneven bars, an event she knew would only require one landing on the ankle at the end of the routine.
Dr. Canales worked carefully with Rachel to prepare her physically and emotionally for the moment she would land on her foot after dismount. Just a week before the regionals, Dr. Canales had Rachel stand and put all her weight on her foot for the first time after the injury.
"The pain was so intense, she got nauseated and almost passed out," Dr. Canales said.  "I knew that the dismount was going to hurt her, but I also felt confident that it would not cause her any further injury or harm. So, we worked on preparing her mentally for what the pain would feel like when she landed."
Following Dr. Canales instructions, in the days leading up to the competition, Rachel first worked on her bar routine without the dismount. She gradually worked in her dismount with the assistance of a training belt. The first time, she landed with 25 percent of her weight. The following times, she increased to 50 percent, then 75 percent and, finally, to 95 percent. That last time, the pain was so intense her body instinctively picked up her foot. She felt in shock, but, Rachel said, it helped to prepare her body for what to expect when she completed the full dismount in competition.
"All along the way, Dr. Canales would explain to me how it was going to feel," Rachel said. "His words of encouragement made me believe everything was going to be OK."
On the day of the NCAA regional competition, Rachel's parents sat anxiously in the stands awaiting her event, Dr. Canales watched live on TV with his family, and Rachel, the determined young athlete, worked through her routine in her head, preparing for that final dismount.
Once her name was called, Rachel worked through her event, building toward her double back flip with full twist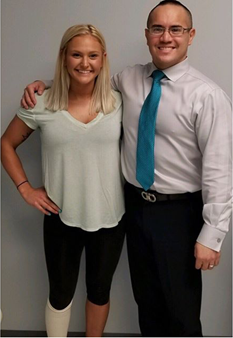 dismount. As Rachel released from the bars, her parents, teammates and all those in the stands who knew of her injury, fell silent and held their breath. Then came the eruption of cheers- in the gym and in the Canales home - because not only had Rachel finished her routine, but had actually stuck the landing. A perfect dismount on a foot and ankle she could barely stand on just the day before.
"We were just so proud of her," Marci said. "She is just such a determined, hard working young woman. She has no idea the impact she has had on so many people of all ages. For those that knew of her injury and knew there were those telling her she couldn't do it, she demonstrated what you can do with competitive spirit and willpower."
Rachel said she feels blessed to have found a physician who took the time to accurately diagnose her injury and then make a commitment to do everything he could to safely get her back in competition.
"He was with me every step of the way, always telling me 'you've got this. There is nothing like having your doctor in your cheering section'," Rachel said. "He gave me the opportunity to finish my career the way I wanted to – and write my very own ending."
Call Today for More Information About Podiatric Treatment Options
Tags:
---
Categories: