Catholic Health World's October 1st cover story features St. Vincent Charity Medical Center and its medical legal partnership (MLP) with The Legal Aid Society of Cleveland.
St. Vincent Charity's MLP provides free, on-site services to resolve civil legal issues that impact the overall health of patients. When it launched in 2017, the program was the first of its kind in Ohio to focus on the needs of those in treatment for behavioral health and addiction diseases.
Today, the MLP has been expanded to all patients who qualify. The program is generously supported through a two-year $260,000 grant from the Jones Day Foundation, $100,000 from The George Gund Foundation and $80,000 from the Mt. Sinai Health Care Foundation.
Read the full story from Catholic Health World, a national publication of The Catholic Health Association of the United States, below.
---

Solving legal issues can improve mental health treatment outcomes
St. Vincent Charity Medical Center provides legal remedies in-house
October 1, 2018
By COLLEEN SCHRAPPEN
About 4,000 people come through St. Vincent Charity Medical Center's Psychiatric Emergency Department in Cleveland each year, the only such facility in northeast Ohio.
"We never turn away any patient in crisis," said Dr. Albana Dreshaj, medical director of the psychiatric ED. "After we have assessed the patient, we will refer them to outside community resources if we have been able to stabilize the crisis; or, if they need more crisis management, we will refer them to one of our three inpatient psychiatry units."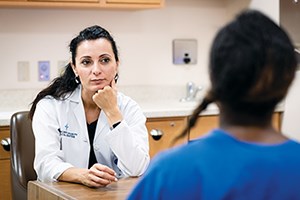 Another 4,000 patients are seen annually in the center's adult and geriatric psychiatry units, detox unit and outpatient program for patients with substance abuse disorder. Dreshaj estimates that the majority of patients who seek care for psychiatric or addiction crises are further weighed down by frustrations and stress stemming from poverty, the stigma of mental illness and an inability to resolve problems. They may live in a dwelling that is environmentally unsafe, or where they are subject to abuse. They may face eviction or hunger. And all these things can impact an individual's well-being and ability to manage a chronic mental illness or recover from addiction.
"Our patients have such great needs. They don't know how to navigate the difficulties in life … they don't know what their rights are," said Dreshaj. "What happens to psychiatric patients is a lot of things in their life will suffer because of mental illness."
Many are indigent with fractured family ties and tenuous social supports, she said. Dreshaj and her colleagues believe that by integrating practical services like legal aid as a care option, the hospital can help people achieve greater stability in their daily lives. Such stability gives patients a better chance of maintaining their physical and psychiatric health once they are released from inpatient care or as they find their footing with outpatient therapy and addiction recovery services, Dreshaj said.
So, in October of 2017, with support from three grants totaling $440,000, St. Vincent Charity Medical Center formed a medical-legal partnership with the Legal Aid Society of Cleveland to provide seamless, no-cost services for patients with psychiatric and substance abuse disorders who meet income qualifications and other Legal Aid client eligibility criteria. Legal Aid trained social workers and other staff identify and screen patients with noncriminal legal issues and refer them for services. Initially, a Legal Aid attorney worked out of the office in the hospital two days a week, consulting with patients referred from the psychiatric emergency department.
Easy access
The program since has expanded to include a second attorney and it is open to any patient who meets the Legal Aid client criteria, although most clients continue to be behavioral health patients.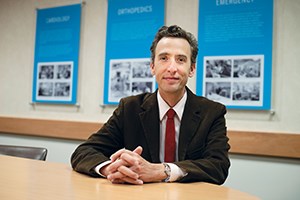 Four days a week, a Legal Aid attorney is embedded at St. Vincent Charity, working in collaboration with social workers, doctors, nurses and addiction specialists. Each patient undergoes physical exams and additional screenings. "With three to four interviews, that's three to four chances to be flagged for the program," said Dreshaj. The caregiving team works to understand the life circumstances of each patient, asking questions about housing, employment and family life.
Legal Aid attorneys Michael Russell and Jennifer Kinsley work at the hospital two days each. Russell said in some cases, an attorney can resolve issues on the spot, but most clients' issues will require time to resolve through the civil courts or work with other entities such as the Social Security Administration. Russell and Kinsley can handle cases themselves or pass them along to their Legal Aid colleagues.
Clean slate
As of the end of July, St. Vincent Charity's medical-legal partnership had worked with 58 individuals. Many of those patients faced multiple civil legal issues ranging from child custody disputes to maintaining safe housing to being unable to secure government benefits.
Unaddressed civil legal issues are "not just a roadblock to housing and employment, (they are) a roadblock to wellness and health," Russell said. He added that patients who become clients may find out for the first time that it is possible to expunge certain arrests and convictions from their records, an effort that can open opportunities for employment and better housing. The attorneys provide help with the expungement petitions.
About 370 hospitals and medical centers in 47 states have some sort of medical-legal partnership, according to the National Center for Medical-Legal Partnership. The organization states that patients availing themselves of legal services through medical-legal partnerships are readmitted to the hospital less frequently, report lowered stress levels and are more likely to take medication as prescribed, among other benefits.
Restoring normalcy
KeeKee, a client of the St. Vincent Charity medical-legal partnership, said assistance she received from Russell and his colleagues has helped her stabilize her family's living situation. KeeKee, who did not want her last name used because of pending legal cases, has been diagnosed with bipolar disorder and depression. She sought care at St. Vincent's psychiatric emergency room in January when she felt overwhelmed by stress from the loss of her Social Security income after she became the victim of identity theft.
The mother of four was struggling to make rent and pay her bills, and the termination of her benefits had pushed her into a state of psychiatric distress. While at St. Vincent, she was referred to Russell for legal help.
"They told me, 'We're going to help you get your Social Security.' They helped me fill out the paperwork. (Russell) helped me get back on my feet. I'm blessed to have people like that on my side. If I didn't go to St. Vincent, I don't know where I'd go or where I'd be," KeeKee said.
A Social Security expert at Legal Aid has been able to get KeeKee's benefits reestablished while her case is pending; the Legal Aid office also is addressing problems related to her taxes. "We're going to work with KeeKee until we get all her cases resolved," said Russell.
Research on the program's effectiveness and its impact on patient outcomes is expected to be completed by October 2019. The medical-legal partnership is working with Cleveland State University to devise metrics to measure program outcomes.
"How do we quantify the success of the program? We want to eliminate things that affect people's health," said Dreshaj.
Russell said: "The success of any type of program like this depends on significant buy-in from medical care providers. We've been lucky with St. Vincent and Dr. Dreshaj as partners."