Reverse shoulder replacement surgery provides an effective treatment for the millions of Americans suffering from chronic pain but for whom traditional replacement is not an option. Dr. John Krebs, a surgeon with the Spine & Orthopedic Institute at St. Vincent Charity Medical Center, is a specialist in this advanced surgical procedure. He regularly sees patients who have suffered with shoulder pain and limited mobility for decades, unaware there is help available.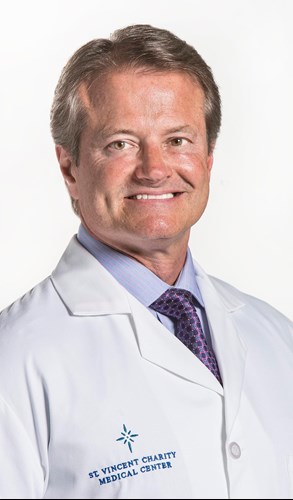 "Patients often come in years after a rotator cuff injury that has led to arthritis in the joint. They have been told by other surgeons that they are not a candidate for shoulder replacement, so they simply live with the pain and limit their work and daily activities," Dr. Krebs said. "It is extremely rewarding to see the hope return to their faces when I tell them there actually is a solution to relieve them from their pain and return function to the shoulder."  
Reverse shoulder replacement was specifically developed to treat rotator cuff tear arthropathy, a debilitating condition that includes a rotator cuff tear combined with advanced arthritis in the shoulder. Of the 7 million Americans who visit a doctor each year with shoulder problems, more than 4 million of these visits are for rotator cuff injuries. Left untreated, the tear can lead to progressive destruction of the bone and joint. 
"The tendons and muscles that make up the rotator cuff help to keep the ball and socket together and functioning. When the rotator cuff is torn, the muscles and tendons are no longer adequate to hold a traditional shoulder replacement in place," Dr. Krebs said. "That is why for so long surgery has not been an option for these patients." 
With a traditional shoulder replacement, a metal ball is placed on the top of the arm bone and a plastic socket on is positioned on the shoulder blade. This mimics the structure of how the shoulder is designed. In a reverse shoulder replacement, the surgery reverses the patient's normal anatomy by placing the ball on the shoulder blade and the socket on top of the arm bone. 
"By reversing the shoulder placement, we can then utilize the deltoid muscle – the large muscle in the shoulder – to compensate for the damaged rotator cuff muscles and tendons. This ultimately allows patients to regain their ability to raise their arm over their head and restore function," Dr. Krebs said. 
For patients like Raymond Hall of Tremont, this innovative surgery is life-changing. Raymond, no longer able to work as a carpenter due to rotator cuff tears in both shoulders, had resigned himself to living with his pain and immobility after multiple surgeries to attempt to repair the tears and a failed shoulder replacement. It wasn't until his orthopedic surgeon recommended a reverse shoulder replacement that he began to feel some hope things could get better. 
"When my doctor at the time recommended the reverse shoulder, he said I needed go see Dr. Krebs – that he was the best in the area doing this surgery," Raymond said. "Even though my doctor had told me about the surgery, I still really didn't believe there was hope until I met Dr. Krebs. He listened and answered all of my questions and I started to think about what life could be like if I could use my shoulders again." 
In less than 5 months after reverse shoulder replacement surgery on his right side, Raymond can now pick up a half gallon of milk, reach for items out of his cabinets and scratch his back – all everyday things he was unable to do before. Still going to therapy three times a week, he looks forward to Dr. Krebs performing the surgery on his left side once his right side is fully strengthened. 
"For nearly 13 years, Raymond was not able to lift his arms and had to stop working because of his shoulder condition," Dr. Krebs said. "Once he has the surgery on the left side and completes therapy, I see him returning to a full, active life without the chronic pain." 
---
To learn more or schedule an appointment with Dr. John Krebs of the Spine and Orthopedic Institute at St. Vincent Charity Medical Center, call 216.241.8654.