Obesity leads to heart disease, type II diabetes, and cancer. It also has a significant impact on joint health. Individuals with obesity have higher incidence of hip pain and stiffness, knee osteoarthritis and a high need for lower limb joint replacement. In addition, if you have a BMI greater than 40, you may be turned down and told to lose weight before you can have knee or hip surgery.
While diet and exercise may seem like the easiest solution, research shows that with diet and exercise alone only 5 percent of people will lose the weight and keep it off. But there's another tool available to jump-start weight loss and a healthier lifestyle.
Bariatric surgery is the most effective long-term treatment option for weight loss with qualified patients and may provide the best opportunity to qualify for joint replacement surgery. Bariatric surgery, along with diet and exercise, has a 66 percent success rate and the ability to alter the metabolic regulating system.
Suffering from joint pain? Have you been advised to lose weight before undergoing orthopedic surgery?
Experts from the Center for Bariatric Surgery are hosting a free informational session on bariatric surgery in preparation for orthopedic surgery.
Leslie L. Pristas, D.O., F.A.C.S., director of bariatric surgery, and Roshni Venugopal, M.D., F.A.C.S., bariatric surgeon, will be available to answer questions about the effectiveness of weight loss surgery, the impact excess weight can have on joints and overall health and will be discussing how bariatric surgery is a safe, effective tool for life-long weight loss.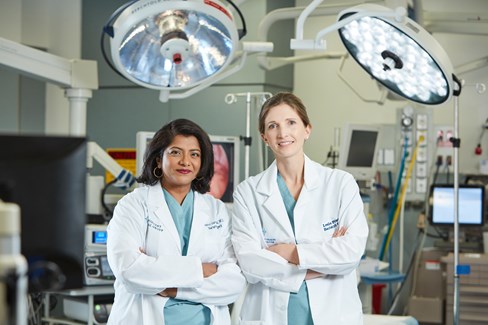 EVENT INFO
St. Vincent Charity Solon Campus
33001 Solon Road, Solon, Ohio, 44139
5:30 p.m.
Wednesday, Nov. 13, 2019.
To register for the event, call 216-592-2801. 
Founded in 1997, the Center for Bariatric Surgery at St. Vincent Charity Medical Center is one of the most comprehensive, patient-centered surgical weight loss programs in the nation. The program was the first in northeast Ohio to be nationally recognized as a Center of Excellence by the American Society for Metabolic and Bariatric Surgery for exceeding standards of quality, safety and outcomes and has maintained this accreditation for more than 21 years.
The anatomical changes that occur with weight loss surgery procedures have been shown to produce metabolic changes that "re-set" the gut hormones in a way that allows greater weight loss, especially when coupled with a healthy diet and exercise.
A lower BMI has been shown to lead to better joint replacement outcomes, including shorter anesthesia times, lowered infection rate and lower total operative times. Evidence also demonstrates that for obese patients with osteoarthritis, bariatric surgery reduced knee pain, improved physical function, reduced knee stiffness, and improved range of motion.
Unable to make the event? Complete the Center for Bariatric Surgery consultation form and meet one-on-one with a physician to discuss your options.