World famous chef Julia Child once said, "this is my advice to people: learn how to cook, try new recipes, learn from your mistakes, be fearless, and above all have fun."
Undergoing the type of lifestyle change that accompanies bariatric surgery is extremely challenging. If you don't have a lot of experience cooking or preparing meals at home, finding healthy meal recipes can feel like another hurdle to overcome – don't let that derail you on your journey. Building up a diverse selection of new, healthy recipes may seem time consuming or overwhelming, but try thinking about it as another lifelong skill you are working to master.
"It's easy to tell someone to eat healthy, but many people don't know how or they have just run out of healthy ideas that sound appealing," said Sam Chin, registered dietician, St. Vincent Charity Center for Bariatric Surgery. "Something I stress with my patients is that cooking is just like any other learned skill, it takes practice. Sometimes it can take between three and four tries to get a recipe down. If you fail the first time, just keep trying."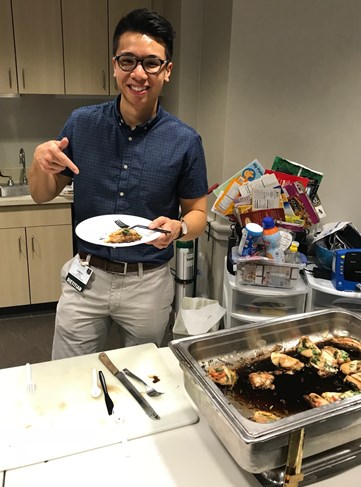 During the March Center for Bariatric Surgery support group meeting, Chin led a cooking demonstration of a recipe for chicken caprese.
Support group participants also talked about the benefits of making meals and eating at home, such as: saving money, bonding with family and having greater control over the nutritional content of the meal.
Also, cooking often creates a sense of accomplishment, says Chin.
For those in the regular food phase of bariatric surgery diet, one serving of the chicken caprese recipe below is the full protein portion for one meal (25g). Add a side such a non-starchy vegetable like green beans, asparagus or brussel sprouts and a healthy carbohydrate like brown rice to complete the meal.
"Balsamic vinegar is great for adding flavor to vegetables without adding a ton of sodium," Chin said. "Buy the reduced version of balsamic vinegar because its thicker and has a stronger taste, or just heat-up regular balsamic vinegar at home to make it thicker and increase the flavor."
Chicken Caprese Recipe
Servings: 4
Prep time: 20 minutes
Ingredients:
1 pound boneless, skinless chicken breasts
1 tablespoon olive oil
1 teaspoon dry Italian seasoning (or equal parts of garlic powder, dried oregano and dried basil)
4 thick (1/2 inch) slices ripe tomato
4 1-ounce slices fresh mozzarella cheese
3 tablespoons balsamic vinegar
2 tablespoons thinly sliced basil
Pepper to taste
Directions:
Heat a grill or grill pan over medium high heat.
Drizzle 1 tablespoon of olive oil over chicken breasts and season to taste with pepper.
Sprinkle Italian seasoning over the chicken.
Place the chicken on the grill and cook for 3 to 5 minutes per side, or until done. Cook time will vary depending on the thickness of your chicken breasts.
When chicken is done, top with a slice of mozzarella cheese and cook for 1 more minute.
Remove from heat and place chicken breasts on a plate.
Top each breast with one slice of tomato, thinly sliced basil and pepper to taste. 
Drizzle with balsamic vinegar or balsamic glaze and serve.
Nutritional values:
Serving size: 6 ounces (4 ounces chicken with 1 ounce tomato and 1 ounce cheese)
Calories: 230
Fat 9 gram
Cholesterol: 80 milligrams
Sodium: 105 milligrams
Carbohydrates: 4 grams
Dietary fiber: 0 grams
Sugar: 2.5 grams
Protein: 33 grams