Doctor. Mentor. Public servant. Friend.
Since 1979, Dr. Joseph Sopko, chief medical officer at St. Vincent Charity Medical Center, has played all these roles and more. He has become part of the fabric of what makes St. Vincent Charity the unique and compassionate organization that is today. Dr. Sopko was recently recognized for his invaluable contributions during the annual doctors' day celebration where he was presented with the physician of the year award.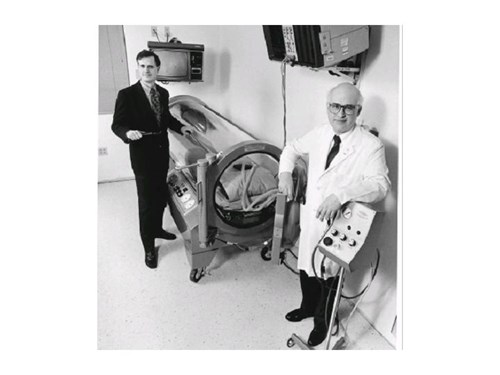 "We often recognize physicians for their exceptional achievements, but we can easily overlook the people who have become almost institutional. It's easy to look past someone when they have become a fixture," said Dr. David Perse, president and CEO, St. Vincent Charity Medical Center. "Joe is the most deserving person for this award. He should really be named physician of the generation. He is a mentor, colleague and friend and an avid advocate of our physicians."
In December 2017, Dr. Sopko took on the role of chief medical officer and acts a key advisor to Dr. Perse. He provides invaluable oversight and consultation to hospital leadership for strategic planning, quality, operational improvement and other hospital initiatives.
An accomplished pulmonologist, during his tenure at St. Vincent Charity Dr. Sopko has held a number of leadership roles within the organization as well as in the medical community. His expertise and leadership has been the backbone of pulmonary services and the critical care unit at St. Vincent Charity for over almost four decades.
"Healthcare organizations have become bigger and mass produced and this is a shining beacon of a place that is different," Dr. Sopko said when receiving his award. "What I have always loved about St. Vincent is that the organization encourages physicians' independence and doesn't put physicians in a box." 
Often referred to as "Uncle Joe" by his fellow caregivers, Dr. Sopko has been known to go out of his way to do nice gestures for staff. Whether it be something as simple as replacing and assembling a coffee maker for a break room or bringing in a radio and playing classical music to help a colleague relieve stress, he shows genuine kindness and likes to see everyone at St. Vincent Charity thrive.  
"He is a bit of an unsung hero. He does so much everyday behind the scenes that people may not even realize what a dedicated physician and leader he is to St. Vincent and to the community," reads his nomination for physician of the year.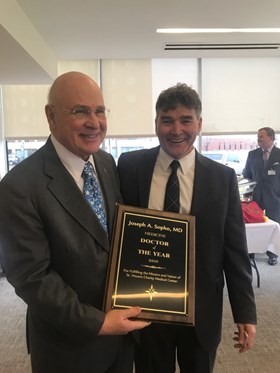 Seeming to have boundless energy, since 2003 Dr. Sopko has served as a district captain in the U.S. Coast Guard Auxiliary. He also performs duties as a volunteer physician for the U.S. Coast Guard, performing exams for U.S. Coast Guard members, teaching safety courses and he is often on-duty at big local events ensuring water safety for boaters.
His exhaustive array of volunteer efforts doesn't stop there. Dr. Sopko is also an active member of the Advisory Board of the Greater Cleveland RTA, an advocate for Edwin's Leadership and Restaurant Institute and a board member of Les Delices, a nationally recognized group of musicians who perform French Baroque music.
"When people think of the gems of Cleveland, they often think of the obvious, such as the Cleveland Orchestra, the Cleveland Museum of Artor the Cleveland Cavaliers. However, it's important to recognize the other, brighter gems of our community, such as St. Vincent Charity and our very own Dr. Joseph Sopko," reads his nomination.
"St. Vincent Charity's mission of caring for the whole person, physically, emotionally and spiritually is reflected in everything Dr. Sopko does. He embodies 'In Omnibus Caritas' or 'charity in all things', the motto of the Sisters of Charity of St. Augustine."