COLUMBUS – The Ohio Hospital Association, the united voice of Ohio's 237 hospitals and 13 health systems, appointed three new members to the Board of Trustees.
Michael Canady, MD, CEO, Holzer Health System (Gallipolis), Jeffrey Graham, president & CEO, Adena Health System (Chillicothe), and Thomas Strauss, president & CEO, Sisters of Charity Health System (Cleveland) were appointed to fill vacant seats as at-large trustees of the OHA board. Canady was appointed to a term ending Dec. 31, 2019. Graham was appointed to a term ending Dec. 31, 2020 and Strauss was appointed to a term ending Dec. 31, 2021.
The OHA Board of Trustees sets policy and strategic direction for matters affecting hospitals throughout Ohio. The board includes representatives from small and large hospitals, urban and rural hospitals, teaching facilities and independent facilities and health care systems. The board consists of four officers, the OHA president and CEO and 15 trustees-at-large.
"The leadership and expertise of our appointees will enhance the extensive leadership dynamics of our Board guiding OHA's mission and strategic priorities," said Mike Abrams, president and CEO, OHA. "We look forward to working with Michael, Jeffery and Tom and their input will be vital as we advance our advocacy and policy priorities this year."
Michael Canady, MD, CEO, Holzer Health System
Michael Canady, MD, MBA, CPE, FACS, FAAPL is the Chief Executive Officer for Holzer Health System in Gallipolis. Holzer is a two-hospital health care system with multiple ambulatory sites and post-acute offerings. Located in southeastern Ohio, covering six counties along the Ohio River, Holzer has approximately 2,500 employees including over 150 providers.
Canady joined Holzer in 1995 and has served in a variety of roles including Medical Director of Surgery and Chief Medical Officer. He received his undergraduate degree from Vanderbilt University with a double major in mathematics and molecular biology. He is a graduate of the Wake Forest University School of Medicine. He is a board-certified general surgeon and Fellow of the American College of Surgeons. He completed a General Surgery Residency at Good Samaritan Hospital in Cincinnati, Ohio. He proudly served in the United States Navy at the Naval Hospital, Camp Lejeune, NC. He earned a Master of Business Administration from Ohio University and is a Certified Physician Executive. Canady is a Fellow of the American Association for Physician Leadership. He completed a Graduate Certificate in Population Health through Jefferson University in 2017. Canady maintains a small, but active surgical practice at Holzer Health System.
Jeffrey Graham, president & CEO, Adena Health System
Graham was appointed Adena Health System's president and chief executive officer in June 2017. He previously served Adena Health System from 2002-2012 in roles including: CEO and administrator for Adena Greenfield Medical Center; chief operating officer; and chief strategy officer. He returned to Adena following five years serving as president and CEO of Mercy Health's East Market in the Cincinnati area. Since returning to Adena in August 2017, Graham has led the health system to earn national recognition for quality improvements. In 2018, Adena Regional Medical Center earned four stars from Hospital Compare – the only hospital in the region to do so; was named one of the nation's Top 50 Cardiovascular Hospitals by IBM Watson Health; and named a Gallup Great Workplace in 2018. Most recently, Adena Regional Medical Center was named by Healthgrades™ as one of America's 250 Best Hospitals for 2019. Graham is also leading Adena's growth in the south-central Ohio region. Adena is leading large-scale projects that include the construction and launch of a new, state-of-the-art emergency department; and a revenue cycle overhaul to streamline the system's billing process.
Graham, a southern Ohio native, is committed to the region, its communities and patients. In 2018, Graham launched a partnership strategy to encourage like-minded independent health systems and providers to partner with Adena Health System to ensure patients in the region have close-to-home access to high quality care. In just its first months, partnerships have been forged between Adena Health System and Fayette County Memorial Hospital; also several independent physicians have rejoined the Adena Medical Group. Graham earned a Master's in Business Administration from the University of Findlay, and a bachelor's degree from Eastern Kentucky University.
Thomas Strauss, president & CEO, Sisters of Charity Health System
Highly regarded in the health care industry nationally, Strauss is president & CEO of the Sisters of Charity Health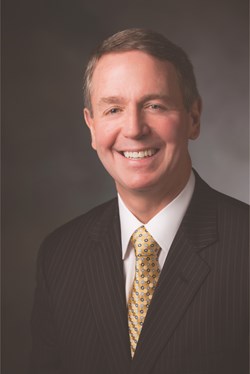 System. Headquartered in Cleveland, the health system includes two Catholic hospitals, two elder care facilities, three grantmaking foundations, and six outreach organizations in Ohio and South Carolina. Strauss joined the Sisters of Charity Health System in January 2017 from CEO Advisory Network, a team of highly accomplished health care leaders firmly grounded in senior level executive experience. The CEO Advisory Network's passion is to leave a lasting legacy by assisting today's forward-looking CEOs and senior executives in leading their organizations on their individualized path during these transformational times.
Strauss is a former president & CEO of Summa Health System. During his 15-year tenure and under his leadership, Summa grew into a leading integrated health care system generating $2.86 billion in economic impact, making it the largest employer in all five counties it serves. Strauss consistently led the organization in achieving excellence in care, quality, growth and employee engagement – earning the NorthCoast 99 Award for best workplaces in Northeast Ohio 11 straight years. His vision extended into the community, where he chaired many boards and developed Centers for Health Equity at New Seasons to provide care to the underserved.
Prior to Summa, Strauss spent 10 years in leadership roles at the former Meridia Health System (Cleveland), where he successfully established new ventures, turned around programs and services, and increased market share. In addition, he worked at Baxter Healthcare and was a trendsetter in home therapy. Strauss received his Doctor of Pharmacy and his Bachelor of Science both from Duquesne University in Pittsburgh.

About OHA
Established in 1915, OHA represents 237 hospitals and 13 health systems throughout Ohio that employ 255,000 Ohioans and contribute $29.7 billion to Ohio's economy along with $5.3 billion in net community benefit. OHA is the nation's first state hospital association and is recognized nationally for our patient safety and health care quality initiatives and environmental sustainability programs. Guided by a mission to collaborate with member hospitals and health systems to ensure a healthy Ohio, the work of OHA centers on three strategic initiatives: advocacy, economic sustainability, and patient safety and quality. The association founded the OHA Institute for Health Innovation and OHA Solutions hospital staffing program and is a co-founder of the Ohio Health Information Partnership and the Ohio Patient Safety Institute.
About Sisters of Charity Health System
The Sisters of Charity Health System was established in 1982 as the parent corporation for the sponsored ministries of the Sisters of Charity of St. Augustine in Ohio and South Carolina. The Sisters of Charity of St. Augustine is a congregation of women religious that, since founding in 1851, continues a faith-based legacy of high-quality, compassionate care in partnership with its co-ministers, who are the heart and hands of the ministry.
The Sisters of Charity Health System solely owns two Catholic hospitals: St. Vincent Charity Medical Center in Cleveland, Ohio; and Mercy Medical Center in Canton, Ohio. The health system also oversees three grantmaking foundations located in Cleveland, Canton and Columbia, South Carolina. Each foundation sponsors significant community initiatives and collaborations that address causes and consequences of poverty. Outreach organizations include Joseph's Home, a unique residential care center for homeless men in Cleveland; Early Childhood Resource Center for people working in childcare in all settings in Canton; Healthy Learners, a health care resource for children from low-income families in South Carolina; and the South Carolina Center for Fathers and Families, a state-wide organization supporting initiatives to reengage fathers in the lives of their children. The Sisters of Charity Health System also provides residential elder care services at Regina Health Center in Richfield, Ohio, and Light of Hearts Villa in Bedford, Ohio.