Quality and Patient Safety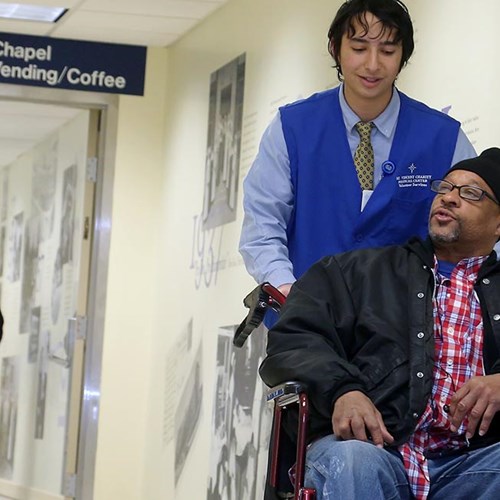 St. Vincent Charity Medical Center's commitment to quality stems from our mission and values.
We pride ourselves on providing the highest level of compassionate, quality care in an environment that is respectful of all people. The quality of our care is recognized by many third-party accrediting bodies. St. Vincent Charity Medical Center ranks highly in quality ratings and when compared with hospitals locally and nationally we are a quality leader in Northeast Ohio.
Quality achievements
Centers for Medicare and Medicaid Services (CMS) 4-star overall quality rating
2017 Joint Commission Accreditation
National Research Corporation Excellence Award for Commitment to Improving the Patient Experience
American Society of Metabolic and Bariatric Surgery Accreditation for 21 years
College of American Pathology Accreditation
Accredited by the Ohio Department of Mental Health
Our Mission and Values
Faithful to the philosophy and heritage of the Sisters of Charity of St. Augustine, the St. Vincent Charity Medical Center family is committed to the healing mission of Jesus. As caregivers, we serve with:
Our deep respect for the dignity and value of all persons
Our practice of quality care
Our dedication to the poor
Our commitment to education
Caregivers at St. Vincent Charity serve with the same shared values:
Respect: We serve in an atmosphere of mutual respect and fairness, treating each person with reverence and dignity that recognized each individual's contribution.
Integrity: We hold ourselves accountable for our actions and are honest and ethical in all our dealings.
Quality: We are committed to continuous improvement of our services to better each life as if it were our own.
Teamwork: We celebrate the opportunity to come together as caregivers in an inclusive workplace where diversity and open communication are valued.
How are we doing?
If you have a patient safety complaint or question, please contact our Quality Department at quality@stvincentcharity.com. You can also call, 216.241.6256.
You have the right to direct any concerns about safety or your care to anyone you believe appropriate.
You also have the right, if you choose, to contact the Ohio Department of Health, The Joint Commission, or if you are a Medicare beneficiary, you may contact the Peer Review Organization, KePRO, Inc.
The contact information is found at The Joint Commission.