About
The history of Cleveland and St. Vincent Charity Medical Center are not independent of one another. A city is people; a hospital is people—the story of the past century and a half is the story of how these people have helped each other.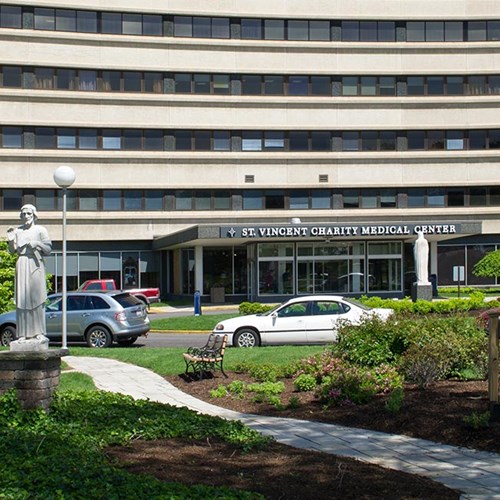 About St. Vincent Charity Medical Center
In 1851 a handful of pioneering Sisters of Charity of St. Augustine were brought to Cleveland at the request of Bishop Amadeus Rappe, the first bishop of Cleveland.
Against the backdrop of a soul-searing Civil War and a spirit saddened by the assassination of a President, new life was teeming on the streets, avenues, shores, railways and alleys of Cleveland. However, without a hospital the city could not serve the railroad and steamboat disaster victims and returning Civil War soldiers who were requiring immediate medical attention and nursing care.
To meet these needs, St. Vincent Charity Hospital, rose above almost insurmountable difficulties to come into existence.
In May 1863, Bishop Rappe had proposed to City Council that Cleveland build a hospital to care for wounded soldiers, with nursing care to be provided by the Sisters. City Council appointed a committee to investigate and immediately dissension occurred. Newspaper editorials opposed a hospital under Catholic auspices since nine-tenths of the taxpayers were Protestants, and proposed instead the establishment of a nonsectarian hospital.
Familiar with failure and discouragement, Bishop Rappe made another attempt. He offered to build a hospital and provide Sisters to care for the patients if the citizens would furnish adequate financial support.
Cleveland citizens agreed and the site—at Perry Street (now East 22nd Street) between Marion and Garden Streets (now Central Avenue)—was purchased for $10,000. The initial hospital cost $72,000 of which $42,000 was raised from the primarily Protestant Cleveland community.
The Sisters of Charity of St. Augustine stated that patients would be received regardless of religious belief and that those unable to pay would have their care paid for by the city.
Mother Augustine, a woman of refinement and strength of character, who possessed unusual executive ability, was the first superior of the hospital. She and seven Sisters took up their duties on October 5, 1865. Their practice of always aiding the sick and suffering regardless of creed, race or ability to pay has continued throughout the next century and a half.
Today, St. Vincent Charity Medical Center is Cleveland's faith-based, high-quality health care provider. As a teaching hospital, it is home to the renowned Spine and Orthopedic Institute, the Center for Bariatric Surgery as well as complete services in cardiovascular, emergency medicine, primary care, behavioral health, occupational health and addiction medicine in a setting that is as caring and comfortable as home.
Everyone at St. Vincent Charity Medical Center is devoted to the mission to treat every patient with clinical excellence and compassionate care. Because we are all caregivers.
Along with all ministries of the Sisters of Charity Health System, we carry forward the mission of the Sisters of Charity of St. Augustine. 
Our Mission
In the spirit of the Sisters of Charity of St. Augustine, the St. Vincent Charity Medical Center family is dedicated to the healing ministry of Jesus. As Caregivers we serve with a deep respect for the dignity and value of all persons, we are focused on quality care, dedicated to the poor and committed to continuing education.
Our Vision
St. Vincent Charity Medical Center, with the commitment of its Caregivers and physicians, will be a leading model for healthcare delivery in Northeast Ohio based on its faith-based mission, dedication to education, commitment to the communities it serves, excellence in the patient experience it provides, focus on surgical services, and partnerships with physicians and other constituencies.
Our Values
RESPECT
We serve in an atmosphere of mutual respect
and fairness, treating each person with
reverence and dignity that recognizes each
individual's contribution.
INTEGRITY
We hold ourselves accountable for our actions
and are honest and ethical in all our dealings.
QUALITY
We are committed to continuous improvement
of our services to better each life as if it
were our own.
TEAMWORK
We celebrate the opportunity to come together
as Caregivers in an inclusive workplace where
diversity and open communication are valued.
About Sisters of Charity Health System
 The Sisters of Charity Health System was established in 1982 as the parent corporation for the sponsored ministries of the Sisters of Charity of St. Augustine in Ohio and South Carolina. The Sisters of Charity of St. Augustine is a congregation of women religious that, since founding in 1851, continues a faith-based legacy of high-quality, compassionate care in partnership with its co-ministers, who are the heart and hands of the ministry.
The Sisters of Charity Health System solely owns two Catholic hospitals: St. Vincent Charity Medical Center in Cleveland, Ohio; and Mercy Medical Center in Canton, Ohio. The health system also oversees three grantmaking foundations located in Cleveland, Canton and Columbia, South Carolina. Each foundation sponsors significant community initiatives and collaborations that address causes and consequences of poverty. Outreach organizations include Joseph's Home, a unique residential care center for homeless men in Cleveland; Early Childhood Resource Center for people working in childcare in all settings in Canton; Healthy Learners, a health care resource for children from low-income families in South Carolina; and the South Carolina Center for Fathers and Families, a state-wide organization supporting initiatives to reengage fathers in the lives of their children. The Sisters of Charity Health System also provides residential elder care services at Regina Health Center in Richfield, Ohio, and Light of Hearts Villa in Bedford, Ohio.
Our Founders: The Sisters of Charity of St. Augustine
Long before the American workplace widely accepted women in professional roles, the Sisters of Charity of St. Augustine (CSA) were directing major health care institutions, teaching in schools and developing new programs to provide needed human services. The first CSAs in America served as the first public health nurses in Cleveland, Ohio. In 1851, they began an enduring legacy of responsive ministry, creative stewardship and an ongoing quest for social justice that lives on today.
The health and human service ministries of the CSA Congregation are now overseen by the Sisters of Charity Health System. The health system embodies the values and philosophy of the Sisters of Charity of St. Augustine and their mission to continue the healing ministry of Jesus Christ. To learn more, read the Founding and History of the Sisters of Charity of St. Augustine document, watch this brief video or visit the congregation's website at www.srsofcharity.org.