Comprehensive Wound Care
For over a decade St. Vincent Charity Medical Center's Wound Center has coordinated an advanced approach to healing the most challenging wounds.
Our outcomes are reflected by a consistent number one ranking on patient satisfaction surveys.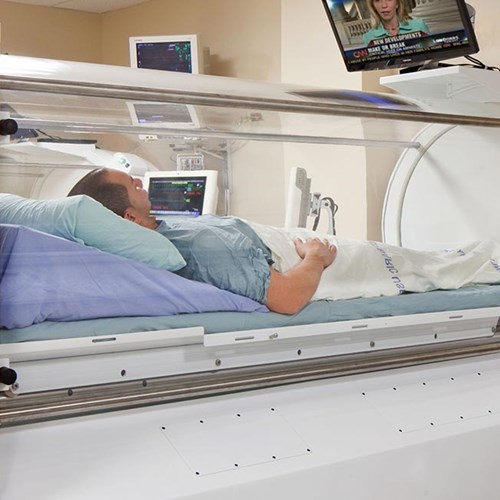 Our experienced physicians and nursing staff stand ready to work with you and your team to deliver an outstanding outcome.
Every year more than 3,500 patients benefit from our multidisciplinary approach which includes podiatry, vascular surgery and infectious disease.
The Wound Center at St. Vincent Charity Medical Center offers:
Comprehensive care delivered by experienced physician and nursing staff
Multidisciplinary approach that includes podiatry, general surgery and infectious disease
Care for variety of wounds, including diabetic foot wounds, pressure ulcers, vascular-related wounds, chronic infected wounds, reconstructive wound care
Collaboration with patients primary care physicians, home health care and skilled nursing care
Hyperbaric Oxygen Therapy
For an appointment, call 216-363-2646.
Hyperbaric Oxygen Therapy
St. Vincent Charity Medical Center opened Cleveland's first Hyperbaric Medicine Center in 1993.
We are proud to be among the few hospitals in Ohio that offer this unique and effective treatment as part of our Wound Center. Three computerized hyperbaric treatment chambers are used to care for a variety of illnesses and injuries. Hyperbaric oxygen therapy treatments deliver 100% oxygen to the body, encouraging the development of new capillaries that transfer blood and oxygen to damaged tissues. This promotes advanced wound healing and improved infection control. In addition, treatment within the chamber constricts blood vessels; reducing swelling in patients suffering from severe burns and crush injuries. The therapy chambers can be useful in the treatment of severe smoke inhalation and carbon monoxide poisoning.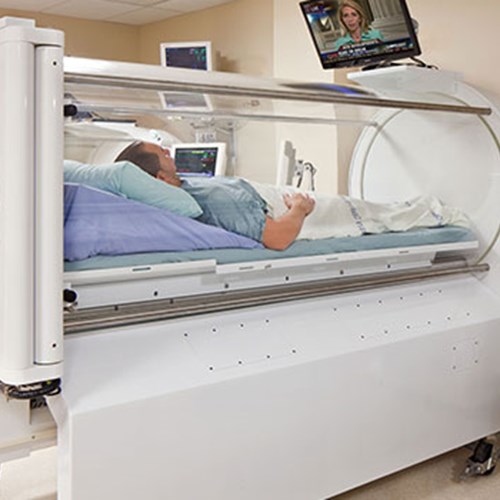 Conditions Treated with Hyperbaric Oxygen Therapy
Hyperbaric oxygen therapy is used to treat a wide range of emergency and non-emergency illnesses and injuries, including:
Acute carbon monoxide exposure
Decompression illness
Clostridial myositis and myonecrosis
Acute traumatic peripheral ischemia
Crush injuries and reattachment of severed limbs
Progressive necrotizing fasciitis
Acute peripheral arterial insufficiency
Preparation and preservation of compromised skin grafts
Chronic refractory osteomyelitis
Osteoradionecrosis
Soft tissue radionecrosis
Diabetic wounds that have failed course of standard therapy
Benefits of Hyperbaric Oxygen Therapy
Hyperbaric oxygen treatment produces one or more of the following effects:
Increased oxygen delivery to injured tissue
Advanced wound healing
Preservation of damaged tissues
Elimination and / or reduction of the effects of toxic substances
Reduction or elimination of tissue obstruction by gas bubbles
Greater blood vessel formation
Improved infection control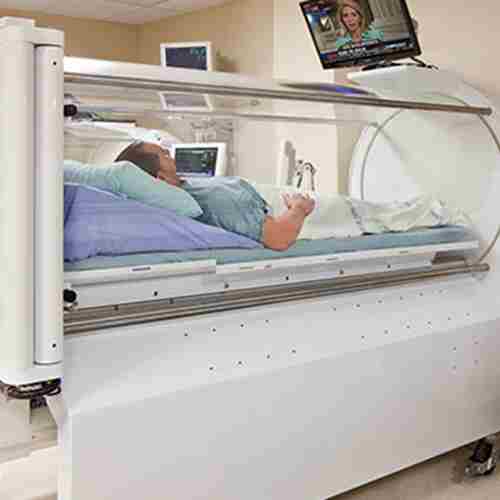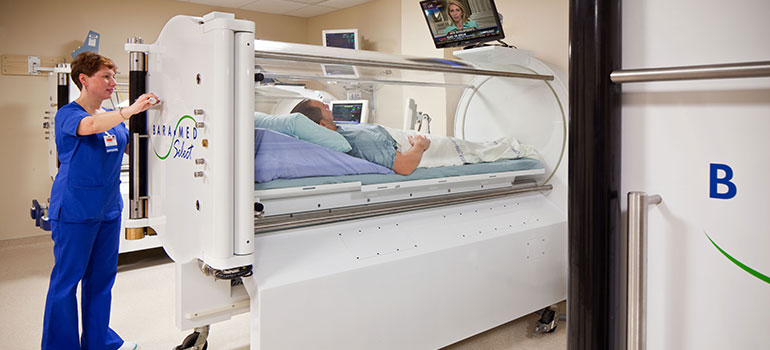 With some conditions these effects may occur after only one or two treatments.
Depending upon the nature of the illness or injury and the patient's condition, it may be necessary to undergo as many as 40-50 treatments for maximum benefit. Treatments may be provided up to twice daily for inpatients. Outpatients receive treatment once a day for five days per week. Each patient's treatment plan is individualized and carefully discussed with him or her.
For an appointment, call 216-363-2646.