BETH ANDERSON
Sports Medicine Patient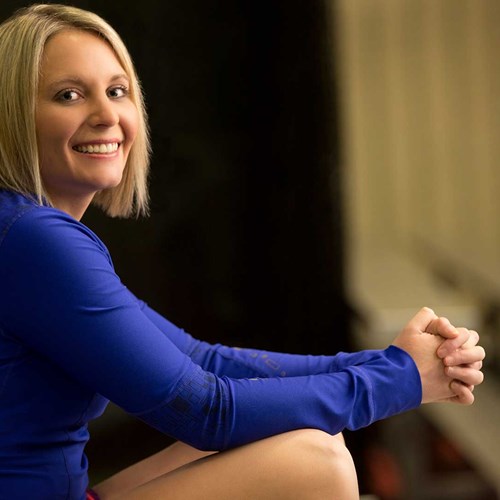 Despite the fact it had been weeks since he last saw me, he remembered all the little things about me and my life—things you don't have in medical records.
— Beth Anderson
It's an obsession that started in college when a friend asked Beth Anderson, "Hey, do you wanna run a marathon with me?"
With her first marathon behind her, that youthful dare became a flourishing part of Beth's adult life—but she didn't fully value running until it was almost taken away from her.
"I was hooked. Running is my passion—it's so much of who I am today."
Beth has run ten marathons since that day but it was a sharp pain and some dark days while training for her latest race that made her realize that running was more than just a hobby. As an executive in the banking industry with a high-stress role and long hours, running gave Beth balance.
"It's my alone time. Whenever I can't run, without those endorphins and the stress relief, I feel depressed and to be honest, I'm not very fun to be around," Beth says with a smirk.
One of Beth's life goals is to see all 50 states and running is her vehicle to reach it.
"I hear South Dakota is beautiful. I'm planning on doing a race there and it's one of those places you may not see without that kind of inspiration to get you there."
She was preparing for the New York Marathon when she started to feel ongoing hip and groin pain.
"I'm not typically one to go to doctors. I'll admit I'm sort of stubborn so I just tried to work through it. Finally the pain became too much and I got worried enough to see Dr. Keppler at St. Vincent Charity. He was quick to recognize a stress reaction after an MRI."
While Beth was grateful to have averted a long-term complication that may have kept her out of racing forever, for the time being it meant she was in rehab and on crutches. Her dream of completing the New York Marathon seemed to pass her by. But she wasn't letting that dream go. She signed right up for the next year.
Beth is a little stubborn like that.
As her recovery progressed, she worked her way onto a bike and eventually was cleared to run again. The New York Marathon was back in her sights and she was training every day for five months. With just three weeks to go before the race, she noticed pain in her other hip.
"I was crushed. The idea of getting this close after coming back was devastating to me. All that work and the idea of being back in crutches was just…crushing."
Beth went back to St. Vincent Charity and a wider team was brought in. Once again she was thinking about her long term health but she and her medical team were not ready to give up on seeing Beth cross the finish line in Gotham.
Dr. Louis Keppler knew that he had a unique resource on his team in a young forward-thinking sports medicine specialist, Dr. George Friedhoff. The collaborative model of care at St. Vincent Charity meant that he could quickly bring Dr. Friedhoff in on the problem and see if there was any way to get Beth to New York without compromising her long-term mobility.
"I've never met doctors who are so genuine. Dr. Friedhoff came into the room and you could see it on his face that he really cared about me finishing this race. One of my pet peeves is when a doctor cuts you off but he listened to my whole story before he began to treat me."
Dr. Friedhoff and his team don't just perform surgeries. They look for the best solutions. A comprehensive plan that includes an array of treatments. With his experience in sports medicine and a thorough understanding of Beth and her situation, Dr. Freidhoff found the right combination.
"He prescribed the right combination of injections and therapies. I couldn't believe I was going to New York and not having surgery."
A few weeks later and Beth didn't just cross the finish line, she completed her best personal time.
Since that race she has grown more confident and is now preparing for her next challenge: The Marine Corps Marathon. She wasn't alone in her pride. She returned to St. Vincent Charity for a follow-up appointment and found a beaming Dr. Freidhoff.
"You could tell he was thrilled to hear I had achieved my best time. He saw how happy I was to keep doing what I love and it meant so much to him."