Foot & Ankle
Ache No More: Relief for you Feet and Ankles
The feet and ankles are the unsung heroes of the body.
They carry the full weight of every step using some of the smallest bones and joints, as well as hundreds of ligaments, tendons and muscles. Given this complexity, it is not surprising that most people will experience problems with their feet or ankles at some point in their lives.
Foot and ankle pain can disrupt a healthy lifestyle by causing us to discontinue normal activities like walking, running and many other forms of exercise. Fortunately, there have been many advances in foot and ankle care in recent years and many people find relief with treatment. The key is working with an expert who has your best interest in mind—experts like the master surgeons at St. Vincent Charity.
When to Seek Help
There are a wide range of issues that can affect the feet and ankles. If you experience any of the following, you should see a doctor:
Severe pain or swelling of the foot or ankle
Persistent pain or swelling that doesn't improve after two to five days of home treatment
Persistent pain that doesn't improve after several weeks
Treatments at St. Vincent Charity
Foot and Ankle Reconstructive Surgery
Total Ankle Replacement Surgery
Athletic Foot and Ankle Injuries
Foot and Ankle Acute Trauma Management
Application of External Fixation Devices
Advanced Techniques
Total Ankle Replacement (Arthroplasty)—Total ankle replacement is a newer surgical option for patients with degenerative conditions such as advanced arthritis of the ankle, resulting in severe pain and loss of function and mobility. The popularity of the procedure has increased significantly as the implants have improved. Total ankle replacement offers an alternative to ankle fusion which can relieve pain but eliminates motion in the joint.
October 15, 2020
Brunswick High School standout Jordyn Thomas overcame the threat of a season-ending injury to move on and dominate the 2020 OHSAA Gymnastics State Championship. As the state's all-around champion, Jordyn credits Dr. Michael Canales, of the St. Vincen ...continue reading
Read More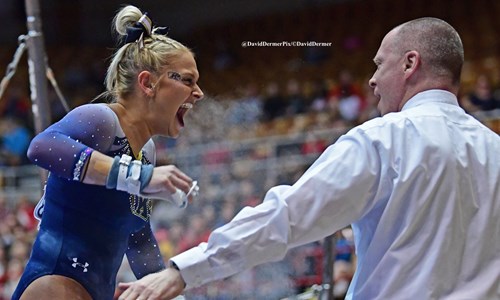 May 31, 2018
Rachel Stypinksi, widely considered one of - if not the - best gymnasts in the history of Kent State University's program, was having the best season of her career. Then during her final meet before NCAA Regionals, Rachel landed her first tumbling pa ...continue reading
Read More