Cardiovascular
St. Vincent Charity Medical Center holds a rich history of cardiac care beginning in 1950 when Dr. Henry A. Zimmerman, MD, launched the hospital's division of cardiology. Under Dr. Zimmerman's direction, St. Vincent Charity was placed at the forefront of innovations in cardiac care. In 1956, Earl B. Kaye, performed the first open-heart surgery in the Midwest, the third in the country, at St. Vincent Charity. A short time later, the hospital opened one of the first diagnostic and evaluation labor
Cath Lab
Comprehensive medical and surgical services for the diagnosis, treatment and prevention of heart and vascular diseases and conditions, including diagnostic testing, cardiac catheterization, open-heart surgery, vascular medicine and surgery, peripheral procedures and cardiac rehabilitation are available in our state-of-the-art cath lab.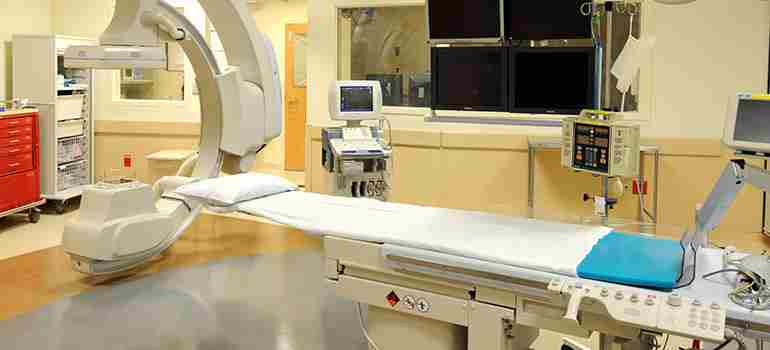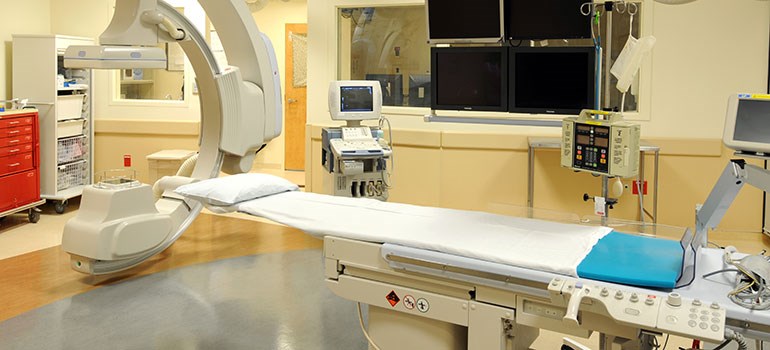 Using Phillips 3-D technology, our team is better able to diagnose and treat patients quickly and effectively. Currently, we have the capability of performing the following procedures:
Cardiac Catheterization
Percutaneous Coronary Interventions
Peripheral Angiograms
Peripheral Interventions
Rotational Atherectomy
Intravascular Ultrasound (IVUS)
Angiojet
Intra-aortic Balloon Pump insertion (IABP)
Permanent Pacemaker implant (PPM)
Automated Implantable Cardiac Defibrillators (AICD)
Electrophysiology studies (EPS)
Temporary pacemaker insertions (TPM)
Cardioversion
Pericardiocentesis
The staff is made up of a combined group of Registered Nurses (RNs), a Radiologic Technician (RT), a cardiac technician, a department secretary, and a manager. The cath lab staff is on-call 24/7 and works in collaboration with the cardiologists and the Emergency Department to expedite emergency procedures to strive for optimal outcomes for patients requiring emergent services.
Rehabilitation
The Cardiac Rehabilitation program at St. Vincent Charity Medical Center is designed to help people with cardiac conditions, coronary artery disease or recent heart attacks recover quickly and achieve optimal levels of physical, mental and social functioning.
Structured exercise programs are customized to meet each person's needs and exercise goals. A comprehensive education component covers all the risk factors for heart disease and aspects of disease management. A doctor's prescription is required for cardiac rehabilitation. Our staff will work with you and your doctor to determine a program for your needs.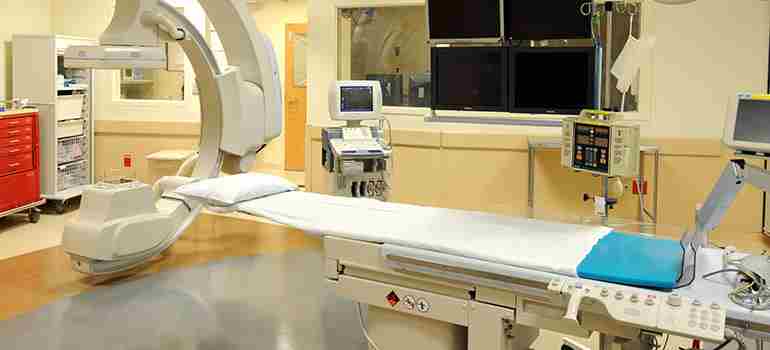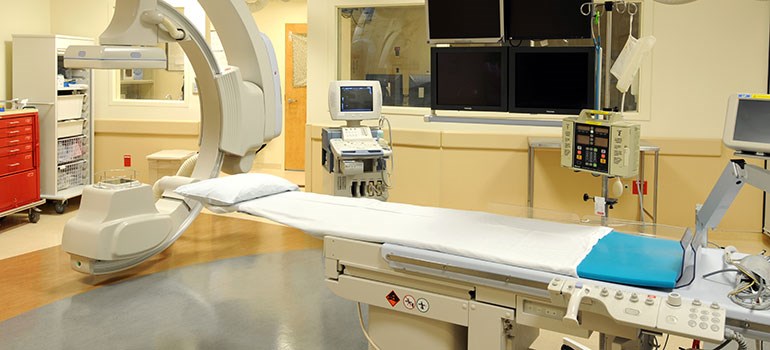 Cardiac rehabilitation is recommended if your medical history includes:
Heart attack
Angioplasty or stent procedure
Coronary artery bypass surgery
Heart valve surgery
Heart transplant surgery
Chronic chest pain (angina)
Peripheral arterial disease
Risk factors for coronary artery disease
Our experienced and professional staff offers medically supervised exercise and educational sessions.
Phase I

occurs during inpatient post cardiac event

Phase II

supervised and cardiac-monitored exercise after discharge from Phase I

Phase III

independent maintenance phase toward continuous lifestyle change; after completion of Phase II (not covered by insurance)
A doctor's prescription is required for participation in cardiac rehabilitation. Our dedicated staff will work with you and your doctor to determine a program that best fits your needs.
Joining our cardiac rehab program will help gain many benefits.
Reduce the incidence of another cardiac event
Reduce cardiovascular symptoms
Improve cardiovascular risk factors (blood pressure, diabetes, cholesterol)
Improve health-related quality of life
Reduce hospitalizations and medical costs
For more information, please contact the cardiac rehab staff at (216) 363-2693.
Electrocardiography
The Electrocardiography (EKG) department provides EKG services for inpatients and outpatients; working in collaboration with the department of nursing to provide 24 hour inpatient coverage.
In addition, our technician also performs electroencephalogram (EEG) procedures as well.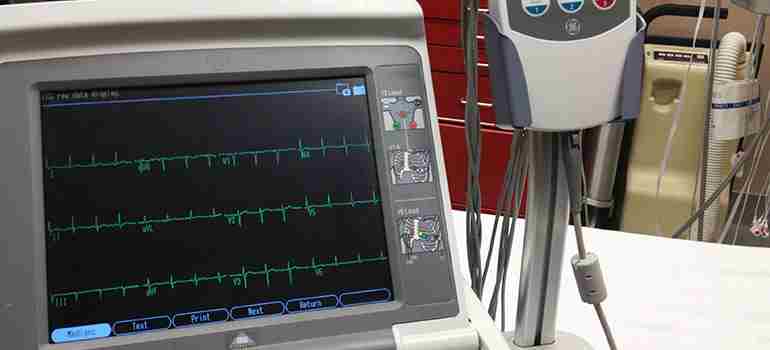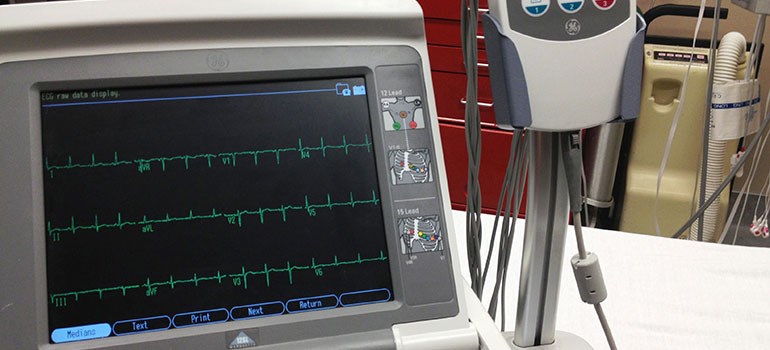 The department is currently in the process of converting all EKG's into a MUSE storage repository, allowing immediate electronic access through a portal to view the EKG.
Expansion to a web-based solution will allow view ability of all EKG's through any PC access.
Electrocardiography (EKG) measures the heart's electrical activity to help evaluate its function and identify any problems that might exist. The EKG can help determine the rate and regularity of heartbeats, the size and position of the heart's chambers, and whether there is any damage present.
An electroencephalogram (EEG) is a test used to detect abnormalities related to electrical activity of the brain. This procedure tracks and records brain wave patterns. Small metal discs with thin wires (electrodes) are placed on the scalp, and then send signals to a computer to record the results. Normal electrical activity in the brain makes a recognizable pattern. Through an EEG, doctors can look for abnormal patterns that indicate seizures and other problems.
Echocardiography
The Echocardiology department provides echocardiogram and Holter monitor services.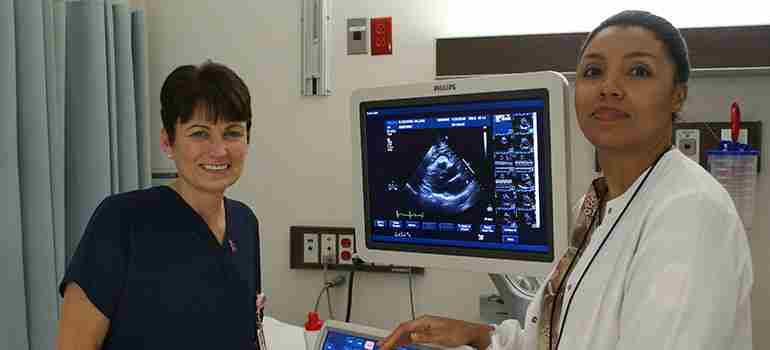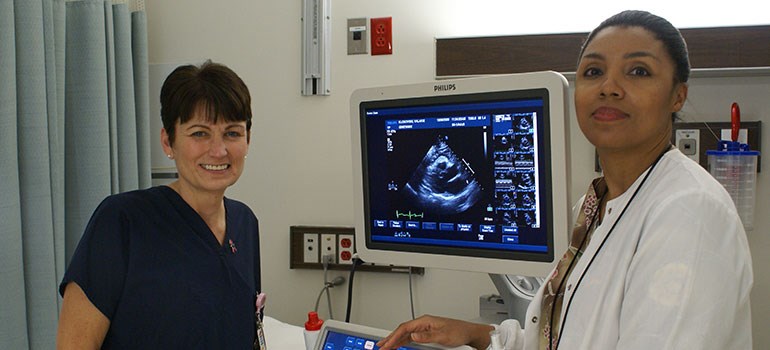 An echocardiogram is a test in which ultrasound is used to examine the heart. The equipment is far superior to that used by fishermen. In addition to providing single-dimension images, known as M-mode echo that allows accurate measurement of the heart chambers, the echocardiogram also offers far more sophisticated and advanced imaging. This is known as two- dimensional (2-D) Echo and is capable of displaying a cross-sectional "slice" of the beating heart, including the chambers, valves and the major blood vessels that exit from the left and right ventricle.
An echocardiogram is a non-invasive heart function procedure which assists physicians in identifying several factors surrounding the heart, including; chamber size, valve function, structural abnormalities, the presence of clot formation in the chambers of the heart, pumping function of the heart, as well as other pieces of information which can aid in the plan of care. The department is currently pursuing ICAEL accreditation, which is a means by which echocardiography laboratories can evaluate and demonstrate the level of patient care they provide.
A Holter monitor is a continuous tape recording of a patient's EKG for 24 hours. Since it can be worn during the patient's regular daily activities, it helps the physician correlate symptoms of dizziness, palpitations (a sensation of fast or irregular heart rhythm) or black outs. Since the recording covers 24 hours, on a continuous basis, Holter monitoring is much more likely to detect an abnormal heart rhythm when compared to the EKG which lasts less than a minute. It can also help evaluate the patient's EKG during episodes of chest pain, during which time there may be telltale changes to suggest ischemia (pronounced is-keem-ya) or reduced blood supply to the muscle of the left ventricle.
Vascular Lab
Cardiovascular services also include the diagnosis, treatment and management of carotid artery disease, aortic aneurysms, and poor circulation to the legs and the abdominal organs. Our Vascular lab conducts a variety of examinations to help in the diagnosis and treatment of vascular disease.
Find a Vascular Surgeon
Cerebrovascular Examination
This is an examination utilized to determine the carotid and vertebral arterial flow (main blood flow to the brain). It may be performed to determine the presence or absence of stenosis, ulcerative plaque, or aneurysmal dilatation in patients with carotid bruits, possible TIA's or CVA (stroke). Doppler, spectral analysis, and imaging are utilized for this examination.
Venous Evaluation
This is an examination utilized to evaluate venous blood flow in the extremities. It may be performed to determine the presence of absence of a deep vein thrombosis (blood clot), or to determine the competency of the venous valves in the deep or superficial venous systems. Imaging and Doppler may be utilized for this examination.
Peripheral Arterial Evaluation
This is an examination utilized to determine the arterial blood flow in the extremities. It may be performed to determine the presence or absence of arterial obstruction as a cause for claudication pain (pain with exercise), ischemic changes, not ably decreased peripheral pulses or changes due to Diabetes. This examination is also utilized to follow patient's post operatively. Doppler arterial waveforms and segmental pressures are taken bilaterally and imaging may be utilized to determine graft patency.
Studies performed in the non-invasive vascular laboratory include:
Carotid artery ultrasound
Renal artery ultrasound
Aorta and peripheral artery ultrasound
Pulse volume recordings of the upper and lower extremities
Exercise and treadmill testing of both upper and lower extremities (respectively)
Venous ultrasound of both the upper and lower extremities
Venous reflux testing
Vein mapping
Arterial mapping studies
Intra-operative duplex ultrasonography
Lower extremity graft surveillance
Cardiac Interventional Unit
The Cardiac Interventional Unit (CIU) provides pre-operative and post-operative care to cardiac cath lab patients. The unit was developed to provide continuity of care for the patients undergoing procedures. The staff also recovers interventional radiology patients.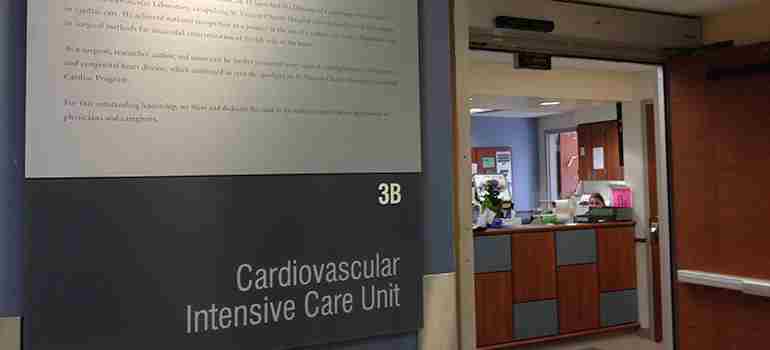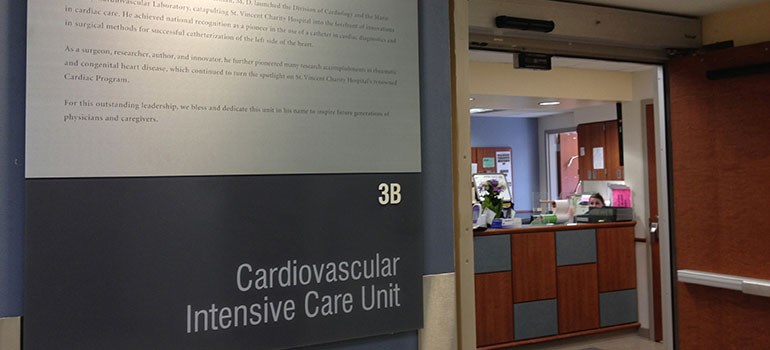 The staff works in concert with the Cardiac Medical Unit (CMU) in placing patients requiring overnight observation and care. In addition, the staff serves as a resource for sheath pull competency for house staff.
Education provided to patients includes:
Pre-procedure phone calls
Pre-procedure education
Post Procedure education and site care
Diabetes education
Hypertension
Cardiac Risk factors
Smoking cessation
Recent Posts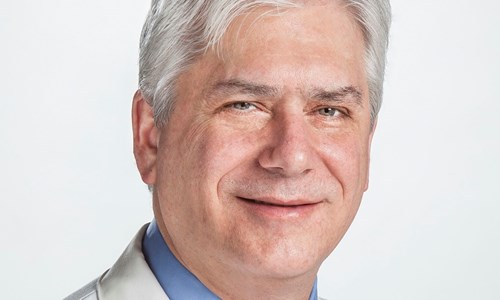 March 8, 2018
St. Vincent Charity Medical Center recently announced that Dr. Dale Levy has joined the organization as cardiothoracic surgeon, expanding the St. Vincent Medical Group to include an open heart and thoracic surgery program. ...continue reading
Read More
March 8, 2018
St. Vincent Charity Medical Center recently announced that Dr. Dale Levy has joined the organization as cardiothoracic surgeon, expanding the St. Vincent Medical Group to include an open heart and thoracic surgery program. ...continue reading
Read More