At age 60, avid outdoorsman Jay Scholes found out he wasn't invincible. The years of playing high school and college football had led to pain in his back so severe he felt almost as though life had stopped.
"When you're young and enjoying the thrill of playing college football, you think you are invincible. You recover from injuries along the way and don't think about the long term effects," Scholes said. "Then, you hit middle age and find out you're not."
A life-long hunter and fly-fisherman, Scholes found he could no longer enjoy the activities he loved due to the pain caused by three degenerated discs in his lower back.
"I am an outdoorsman – it defines who I am. If I can't do that, it is no kind of life," Scholes said.
He also found increasing difficulties in running the day-to-day operations of Outtech Inc, the renowned outdoor industry sales and marketing firm that Scholes co-founded at age 28. As president and CEO at the time, Scholes literally traveled the world leading trips to international manufacturers, heading new product launches and coordinating with the world's largest retailers.
"As the back pain worsened, it got to the point where after a couple of hours, I couldn't go on. The pain just eats you up and you can't think about anything else," Scholes said. "It was scary knowing I was out of the country and afraid I wouldn't physically be able to board a plane to get back home."
In fact, he was so concerned of his ability to continue running his company at the pace necessary to be successful, he did something that he never thought he would do. Scholes sold Outtech through ESOP to its employees to ensure the company's long-term success.
Scholes sought the advice of a couple of orthopedic doctors at larger hospitals, but said he felt "like a bar code" in a production line rather than a real person suffering with chronic pain. After the sale of his company, Scholes said, "I finally decided I need to find someone I could trust."
After seeing his sister successfully treated at St. Vincent Charity's Spine and Orthopedic Institute, Scholes followed the recommendation of a friend to turn to the institute's co-medical director, Dr. Louis Keppler, for help. Upon meeting Dr. Keppler, Scholes said he immediately knew he found the right physician.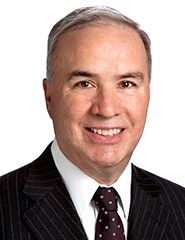 After a consultation and thorough review of his condition, Dr. Keppler looked Scholes in the eye and said, "I've got this."
Over a three-year period, Dr. Keppler performed three separate fusion surgeries to help Scholes find relief from his pain.
"Dr. Keppler was extremely comforting and confident going into these surgeries. As he got to know me, he understood my lifestyle and was committed to getting me back to the things I love to do," Scholes said.
Scholes admits he does have some lingering discomfort, which Dr. Keppler continues to treat, but says his "overall ability to operate is phenomenal." He is back to golfing, outdoor activities and even returned to work at Outtech, working alongside two of his daughters.
"St. Vincent has allowed me to continue to work and engage with the world. One of the most important things I have enjoyed as a result of my surgeries is being able to work with my daughters, spending time with them and watching them succeed as professionals," Scholes said. "I am extremely grateful to Dr. Keppler for helping me restart my life."
Scholes also credits the team of nurses and caregivers at St. Vincent for his recovery.
"Hospitals are all about the people, which is something I aspire to in my company. The warmth of the nurses and caregivers, their empathy – that is something that cannot be faked," Scholes said. "The attitude of the nurses when they came in at midnight after my surgery and said, 'come on, it is time to get up.' They motivated me to do it. They are not just going through the motions, but truly care about each patient."
---
To learn more about getting help to relieve back pack or to schedule an appointment with Dr. Louis Keppler of the Spine and Orthopedic Institute at St. Vincent Charity Medical Center, call 216-369-2800.