Faculty Reviewers: Luis Ramirez, MD & Richard Christie, MD
Resident Reviewer: Rossi Byers
Revision date: 2/14/08
Educational Purpose and Goals
In addition to being skilled in evaluating and treating the psychosocial issues that all patients present, internists should be capable of evaluating and treating: somatizing patients, depressed and anxious patients, loss and grieving, adjustment disorders, psychological changes associated with organic disease, sexual/relational difficulties, negative health habits, developmental difficulties (adolescence, adult maturation, or aging), parent- child difficulties, organic mental syndromes, non-cooperative/non-adherent patients, stress, and crisis management.
II.  Principal Teaching Methods
An elective block month is offered during which the resident will:
Work up and care for a minimum of 5 patients per week located in the Acute Unit, GeroPsychiatry Unit or Detoxification Unit, as well as consult services on medical ward and ICU, discussing the diagnoses and management of these patients with the psychiatric attending
Review and discuss the articles and printed material given to him/her. This will be done twice a week with the attending
Do daily rounds with attending and attend team
Rotate at least two afternoons a month in the Emergency Room (Psychiatry)
Rotate one half day with the staff at Rosary Hall (Drs. Adelman, Parran or fellow)
Some of the doctor/patient issues are also taught during the Communication Skills seminar (see that section of the curriculum).
III.  Educational Content
Mix of diseases and topics addressed: Crisis management, abnormalities of personality, organic mental syndromes, somatization, depression, substance abuse, anxiety, losses and grieving, psychological changes associated with organic disease, sexual/marital disorders, negative health habits, non-cooperation, "stress", and problems with adolescence, adult maturation, and Other topics reviewed will include: the physician- patient relationship and unrecognized responses of the physician; practical psychopharmacology; management principles of group interactions.
Patient characteristics: Medical inpatients including those admitted to the gero-psychiatric unit and acute behavioral health unit, medical outpatients including those seeking care in the psychiatric emergency department as well as patients in the outpatient psychiatry clinic in HCC, and also addiction medicine The variety of patients encountered reflects those served by this hospital. SVCH provides the only psychiatric emergency service to the metropolitan area.
Learning venues: Directly observed patient care and patient care discussions occur at Vincent Charity Hospital:
Gero-psychiatry unit
Behavioral health acute unit - 4B
Chemical dependency detoxication unit
Medical inpatient facilities
Medical outpatient facility
Psychiatric Emergency Department
d. Structure of rotation:
A weekly calendar of conferences and patient care sessions is given to each resident at the start of their rotation. The usual mandatory residency conferences and continuity clinic are attended during the rotation.
VII. Rotation Specific Competency Objectives
Patient Care Residents will demonstrate satisfactory data gathering and interpersonal skills with patient having psychiatric
This would include determining the following:
Patient's belief of cause, course, and prognosis (meaning of symptoms and illness);
Effect of illness (interpersonal, work, sex, home, or social activity);
References to depression, suicide, alcoholism, problems with memory, and dissatisfaction with job, medical care, and sexual performance;
The presence of vegetative manifestations of depression, suicidal intent, denial of alcoholism, and a normal mental status
The willingness of patients to cooperate with treatment and their reasons for that
Medical Knowledge
The resident should reflect satisfactory understanding of the basic psychopharmacology of antidepressants, anxiolytics, commonly used antipsychotic agents and drug detoxification.
Should demonstrate ability to diagnose common psychiatric (see list on last page)
Should be able to recognize addiction and have the knowledge of the different methods to treat
Interpersonal and Communication Skills: The resident should effectively use the following emotion handling/relationship building skills during the first 15 minutes of an interview with a new patient:
Use Emotion Handling Skills (N.U.R.S.): name emotions, express understanding of them, respect them, and provide support in working with
Exhibit Characteristics Conducive to a Positive Physician/Patient Relationship
Develop Self Awareness of Previously Unrecognized Feelings (counter-transference) such as dislike of certain patients, aversion to personal and emotional material that patients often
Develop Self Awareness of Behaviors Frequently Associated with counter-transference, such as avoiding certain patients and certain subject material, such as death
Professionalism: Residents will demonstrate a positive attitude toward patients with psychiatric and chemical dependency problems, will not be judgmental and will provide quality care in accordance to the best practice care for all patients despite personal opinion and
System-based practice: Resident will have an awareness of available community and psychiatric resources, and be able to make appropriate referrals. Residents should be familiar with outpatient treatment programs for substance abuse by the completion of the elective (AA, Murtis Taylor, Casa Alma )
Problem-based learning and improvement: The resident will describe at least one patient related problem that he/she has formulated a clinically relevant question about and determined what evidence there is available with reference to This project will become a part of the resident's portfolio.
Reading
Smith Patient-Centered Interviewing, an Evidence-Based Method, 2nd Edition. Lippincott Williams and Wilkins. 2002. This is loaned to rotating residents.
Miller NS, Gold MS, Smith DE. Manual of Therapeutics for New York. Wiley-Liss, Inc. 1997. This is loaned to rotating residents.
Stephen McPhee, Maxine A. Papadakis, Lawrence M. Tiern, CMDT 2007. Personal copy
V.  Methods of Evaluation
Resident Performance
Verbal feedback on all work and progress through the objectives will be provided intermittently. Faculty will complete web-based electronic resident evaluation forms (or a paper copy) provided by the Internal Medicine Residency office. The evaluation is competency-based, fully assessing core competency performance. The evaluation will be shared with the resident, is available for on-line review by the resident at their convenience,
and is sent to the residency office for internal review. The evaluation will be part of the resident file and will be incorporated into the semiannual performance review for directed resident feedback.
b.  Program and Faculty Performance
Upon completion of the rotation, the residents will be asked to complete a service evaluation form commenting on the faculty, facilities, and service experience. These evaluations will be sent to the residency office for review and the attending faculty physician will receive anonymous quarterly copies of completed evaluation forms.
Appendix of topics 
Delirium Sex related disorders
Normal sexuality
Homosexuality
Paraphilias
Gender identity Disorders
Eating disorders
Anorexia
Bullimia
Obesity
Sleep disorders
Attention Deficit Disorders
Autism
Learning disorders
Geriatric Psychiatry
Psychiatric emergencies
Suicide
Aggression
Psychiatric therapeutics
Dementia
Substance-related disorders
Alcohol-related
Cocaine-related
Hallucinogen-reltaed
Opioid-related:
Schizophrenia
Mood disorders
Depression
Bipolar disorder
Bereavement 14.Anxiety disorders
GAD
Panic Attacks
PTSD
Somatoform disorders
Personality disorders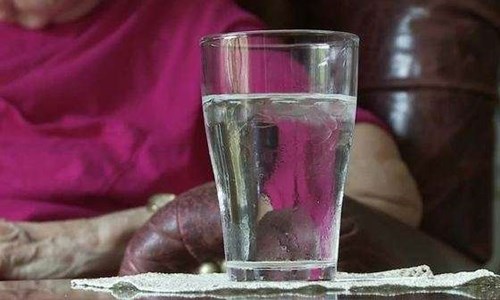 June 28, 2018
Despite the fact that heat-related deaths and illness are preventable, the Center for Disease Control and Prevention (CDC) reports that more than 600 people in the United States die by extreme heat ...continue reading
Read More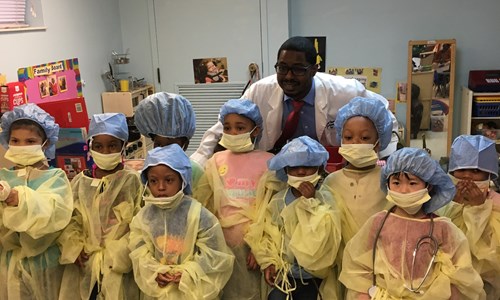 April 17, 2018
In celebration of the national observance of Doctors' Day, two St. Vincent Charity medical residents visited the Bingham Early Learning Center. Dr. Randol Kennedy and Dr. Emre Bucak did show-and-tell and dress-up with the preschool children. They als ...continue reading
Read More