Geriatric Medicine Curriculum
Geriatric Medicine Curriculum
Faculty Reviewer: Richard Christie, MD
Resident Reviewer: Rozi Byers, MD
GOALS

To become competent in the six core areas as they are pertinent to the care of geriatric patients
To develop knowledge, skills and attitudes which enable the medical resident to deliver competent, efficient and comprehensive health care to the elderly.
To develop a philosophy toward aging and the older adult that enables the physician to provide compassionate care for the older individual.

Principal Teaching Methods

Supervised Direct Patient Care - Residents will follow and manage frail elderly patients in a teaching nursing home. There will be other patient interactions and care in outpatient clinics and the hospital. Case-based teaching will occur for a minimum of 41/2 hours weekly.
Didactics – Grand Rounds, Journal Club, geriatric conferences, Case Conferences
Required web-based Modules - Residents are required to complete modules regarding dementia and dementia from the University of Iowa GeriaFlix and GeriaSims cases.

GENERAL GERIATRIC CONTENT

These topics are covered in the various didactic sessions of the program and in the course of patient care during rotations other than geriatrics, such as ward, ICU, subspecialty consultation, ambulatory primary care, resident continuity practice, Emergency Medicine as well as during the geriatric rotation. The geriatric medicine rotation provides many unique opportunities to teach and evaluate.

Core Competencies:

Acquiring knowledge and improving competence in patient care is obviously present in each patient encounter and didactic session.
Sensitivities to communication skills are challenged in dealing with patients often of a different generation, not to mention patients challenged by decreased auditory and visual acuity and diminished cognitive function.
Professionalism is developed by caring for the older patient whose values may be quite different from that of the physician.
Opportunities for problem based learning and improvement are readily provided as the resident needs to apply knowledge and skills already mastered to the multifaceted challenge of caring for the variety of co-morbid conditions often seen in different degrees in many of the chronically ill older patients.
The importance of different systems of resources as well as the different environmental systems where the resident finds the older patient provide many opportunities to teach and see different systems in operation.

Normal physiology of aging

Develop an appreciation of the general theories of aging
Understand how organ function changes in the elderly

How common diseases affect the elderly (different presentations and modified by the often present co-morbid conditions)
Pathophysiology, diagnosis and management of geriatric-specific diseases and syndromes (all provide opportunities to develop all core competencies):

Failure to thrive (frailty)
Weight loss & malnutrition
Immobility & decubiti
Falls & balance & gait disorders
Change of mental status (delirium)
Dementia
Depression
Behavioral disorders
Cerebrovascular accidents
Sensory impairments
Incontinence (urine & stool)
"Iatrogenesis"
Elderly abuse

Geropharmacotherapeutics (Medical knowledge competence):

Differentiation of a complaint and a disease – knowing when not to treat
"Forbidden drugs"
Basic principles of choosing drugs, including a general knowledge of side effect profiles
General principles for avoiding the polypharmacy
Changes in drug pharmacokinetics with age

Appreciate functional status (how does the older patient function in their environment system) in the evaluation and management of geriatric patients

Understand and use the assessment of "activities of daily living" and "independent activities of daily living" in the evaluation of patients

Skills in performing a sensitive and focused history and physical examination in older patients, to include the following elements:

Strong observational skills
Appropriate recognition of caregivers for historical information
Develop sensitivity to problems in obtaining the history (cognitive, auditory and visual limitations of the older patient)
Proper assessment of gait and balance
Thorough sensory evaluation
Functional screening
Cognitive screening
Understanding of the patient's support system, including spiritual support

Preventive care (another challenge to learn and practice communication skills) as applied to geriatric patients, including:

Preventable conditions

Traumatic fractures
Osteoporosis
Polypharmaceutical accidents
Mishaps due to sensory or cognitive impairment

Nutrition
Exercise
Immunizations for DPT, influenza, pneumonia and hepatitis
Disease screening with mammography, pap testing, prostate examination and PPD
Multidisciplinary (system) approach to geriatric care, including:

How best to use a team approach
Use of physical medicine and rehabilitation approaches
The importance of coordinators of care
The importance of the family
End of life issues including advance directives discussions and palliative care (special opportunity for developing communication competence)
MIXTURE OF DISEASES AND TYPES OF PATIENTS

Please see table for diseases and clinical problems covered
Types of patients run the gauntlet from healthy community dwellers to frail elderly in nursing homes (opportunity to understand and use systems based practice). All socioeconomic groups are included.

ANCILLARY EDUCATIONAL MATERIALS

Geriatrics at Your Fingertips. Reubens et al [latest edition] Blackwell Publishing for the American Geriatric Society.
Individual primary literature will be assigned based on clinical experiences.
Geriatric online learning is assigned through the University of Iowa Geriatric Education e-learning site, http://www.medicine.uiowa.edu/igec/e_learning/ Residents must complete module assignment by the end of week 3.

EVALUATION

EVALUATION OF THE RESIDENT

Faculty provide oral feedback and complete "MyEvaluations" resident evaluations at the end of the rotation. The evaluations fully assess core competency performance. The evaluation is verbally shared with the resident, is available for on-line review by the resident at their convenience, and is sent to the Program Director for review. The evaluation is part of the resident file and is incorporated into semiannual performance reviews.
Residents are evaluated annually using the ABIM Interim examination performance on the geriatric focused questions. Results are reviewed by the teaching faculty.
Third year residents are assessed by their performance on the ABIM certifying examination regarding geriatric-based questions. Results are reviewed by the teaching faculty.
EVALUATION OF THE CURRICULUM & ATTENDING

The geriatrics curriculum and attendings are evaluated by the residents who have completed geriatrics rotations at the end of the rotation and at the annual program evaluation by residents.
Revised April 2008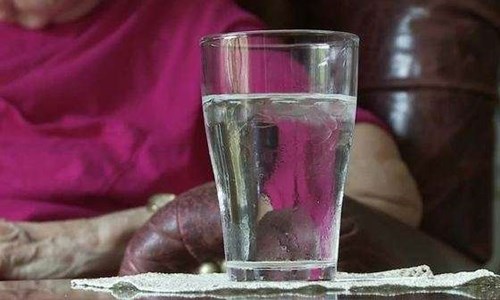 June 28, 2018
Despite the fact that heat-related deaths and illness are preventable, the Center for Disease Control and Prevention (CDC) reports that more than 600 people in the United States die by extreme heat ...continue reading
Read More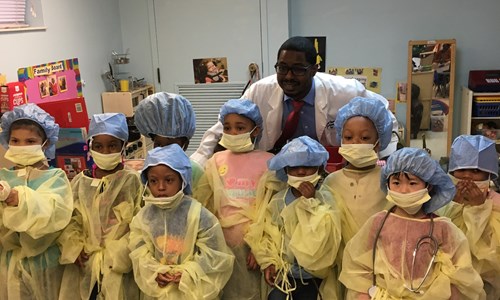 April 17, 2018
In celebration of the national observance of Doctors' Day, two St. Vincent Charity medical residents visited the Bingham Early Learning Center. Dr. Randol Kennedy and Dr. Emre Bucak did show-and-tell and dress-up with the preschool children. They als ...continue reading
Read More