Addiction Medicine Fellowship
Addiction Medicine Fellowship
Addiction Medicine Fellowship at St. Vincent Charity Medical Center
While the field of addiction medicine is a relatively new specialty, the disease of addiction is certainly not.
The chronicity and severity of addiction takes a devastating toll on personal health, family and society. In addition, untreated addiction is a major driver of increasing healthcare costs.
Ohio has seen significant increases of illicit substance use and health related complications of substance use since 2011 - greater than national trends according to the National Institute on Drug Abuse There is an epidemic of addiction in the Ohio. One adult dies of an opiate overdose in Ohio every 6 hours. The demographic has progressively changed over the last ten years. The age of the addicted patients has been going down and the age of people dying of opiate overdose is younger every year. The Ohio patient dying now is 20 to 40 years old and decreasing. There is widespread prescription opiates and heroin use among high school aged children. It is a critical that we develop more physicians able to treat addicted patients, particularly the opiate addicted patients.
Doctors Parran and Adelman at Rosary Hall, St. Vincent Medical Center, have trained over thirty (30) Addiction Medicine Fellows, most in collaboration with University Hospitals of Cleveland and the Cleveland Veterans Administration Hospital. 
The St. Vincent Charity Medical Center Addiction Medicine Fellowship is now certified by the American Board of Addiction Medicine, this program will allow us to train two physicians a year as Addiction Medicine specialists who will be board certified by the American Board of Addiction Medicine.
There is an increasing need for Addiction Medicine consultants in all existing medical surgical hospitals. Two community hospitals in the Cleveland area have now created an Addiction Medicine consult service to address the needs of patient admitted to the hospital for treatment of conditions not related to their addiction but the addiction and withdrawal so complicates the hospital stay that it interferes with the treatment of the admitting diagnosis. By training more addiction medicine specialist the access for the patients and community hospitals for addiction treatment will be increased. In addition there is a need for addiction medicine physicians working in addiction treatment programs and more trained physicians will be able to serve that population.
Curriculum Overview
The core purpose of the program is to provide clinical training in the assessment and management of persons with drug/alcohol problems or other addictive behaviors that are of all age groups, varied socioeconomic and cultural backgrounds.
Objectives of the program are to develop competence in assessment and implementation of specific treatment strategies such as motivational enhancement, cognitive behavioral, relapse prevention therapy and medications for the treatment of addiction.
Co-occurring medical and psychiatric problems are extremely common; the fellow will learn to manage these problems.  Becoming a leader of a multi-disciplinary team is a strength of the program and leads fellows into the next phase of their addiction work after training.  Our state has relatively few physicians certified in Addiction Medicine; our goal is to significantly increase this number through an expanded training program.
Impact
Training more physicians in this specialty will increase the access to standard of care treatment of addiction in the community and eventually at all community hospitals and emergency rooms.
Additional well trained addiction medicine physicians will provide more availability of qualified medical direction for publicly funded treatment programs. Former addiction fellows currently provide some services to publicly funded providers as well as to federally funded programs like the VA Medical Center in Cuyahoga County, Mahoning County, and Summit County, and soon will be providing services in Lake County and Lorain County.  However there are still multiple providers who need medical assistance, guidance and direction.
In addition, most medical/surgical hospitals in our area are bereft of any Addiction Medicine presence.  Twenty-five (25) percent of all med/surg admissions have non-tobacco related addictive disease, yet very few hospitals have an addiction medicine consult service.  This contributes to the current standard of care where 50-80% of actively addicted patients admitted to the hospital have their addiction diagnosis missed, and in the minority where a diagnosis is made – less than half of them have any evidence that a treatment plan was developed for the addiction diagnosis.  More trained addiction medicine physicians will result in more hospitals having an addiction medicine consultant, and thus better care for patients.
Finally, the existence of an addiction medicine fellowship program has a direct and substantial impact on the amount of education offered to health care professionals-in-training about addictive disease.  The existence of a fellowship program in the past resulted in a doubling of students – medical students / nursing students / social work students / and resident physicians – taking "chemical dependence electives" during their training.  This direct education provided by having a fertile educational service with an addiction medicine fellow and an addiction medicine attending produces better learning experience and thus more students and residents choosing to learn in this critical area of medical education.  There is also a multiplier effect since when the Addiction fellows are on the consult services at SVCMC and University Hospitals, they consult on and provide on sight bed-side teaching about patient management to a myriad of students and residents.
| | |
| --- | --- |
| PGY-4 | $58,476.80 |
| PGY-5 | $60,230.81 |
| PGY-6 | $62,036.81 |
Program Directors
Chris L. Adelman, MD Medical Director, Rosary Hall
In 1987 Dr. Adelman moved to Cleveland from Oklahoma to become Medical Director of Rosary Hall Alcohol and Drug Addiction Program at St. Vincent Charity Medical Center. Dr. Adelman attended undergraduate and medical school at the University of Oklahoma. He is on the faculty of the Case Western Reserve University Family Medicine residency program. In 1979 he began his medical practice in Montana as an emergency room physician and within a few years became the first medical director of his hospital's addiction treatment program. Dr. Adelman is board certified in emergency medicine and continues to work in one of our local Emergency Departments. Dr. Adelman and his associate Dr. Ted Parran also provide addiction services to Harbor Light, Cleveland Treatment Center (methadone maintenance), Windsor-Laurelwood Hospital, Stella Maris alcohol and drug addiction treatment center and provide consultative services at several other treatment programs in Northeast Ohio. In 1990, Dr. Adelman and Parran started an addiction medicine fellowship (or training program) for physicians. They have trained more than 35 family practice, psychiatric, internal medicine, OB/GYN and pediatric physicians, many of whom are practicing in the Cleveland area. 
Ted Parran, Jr., MD, FACP Associate Medical Director of Rosary Hall
Dr. Ted Parran pursues several areas of special interest in medical education including Dr – Patient Communication, Faculty Development, Continuing Medical Education, and Addiction Medicine. In addition Dr. Parran is certified by the American Society on Addiction Medicine and his group practice provides medical directorship services to several Substance Abuse treatment programs in northeast Ohio, including Rosary Hall at St. Vincent Charity Medical Center. He is the co-director of the Foundations of Clinical Medicine Course teaching Dr-Pt Communications / Clinical Interviewing / Clinical Reasoning / Physical Diagnosis / Professionalism / and Dr-Pt Relationship skills to students and residents. Dr. Parran is also the medical director of the Program in Continuing Medical Education, and in 2008 was named as the Carter and Isabel Wang Professor of Medical Education, all at CWRU School of Medicine. He is a 1974 graduate from Hawken School, a 1978 graduate with honors in History from Kenyon College and a 1982 graduate of Case Western Reserve University School of Medicine. He completed a residency in Internal Medicine at the Baltimore City Hospital of Johns Hopkins University School of Medicine. Dr. Parran was selected to be the Medical Chief Resident for one year following his residency, and received the Outstanding Faculty Teacher Award from the Department of Medicine in 1987. In 1988 he returned to Cleveland and CWRU School of Medicine.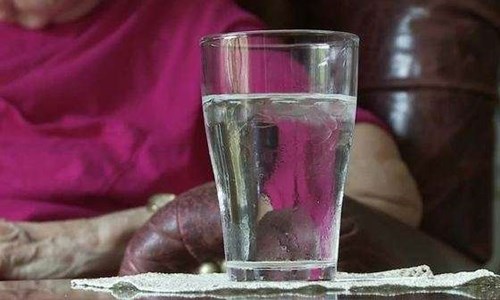 June 28, 2018
Despite the fact that heat-related deaths and illness are preventable, the Center for Disease Control and Prevention (CDC) reports that more than 600 people in the United States die by extreme heat ...continue reading
Read More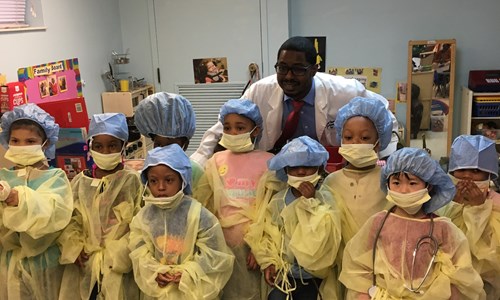 April 17, 2018
In celebration of the national observance of Doctors' Day, two St. Vincent Charity medical residents visited the Bingham Early Learning Center. Dr. Randol Kennedy and Dr. Emre Bucak did show-and-tell and dress-up with the preschool children. They als ...continue reading
Read More